In the digital age, many believe social media to be the most effective form of marketing communication. But what if we told you that there was a form of marketing that was even more effective?
According to Smart Insights, email marketing has become one of the most effective communication channels, even outperforming social media and SEO marketing. This isn't surprising as there are close to 4 billion email users globally. All that is good, but if you haven't started working in that channel, how do you get started? Our email marketing wizard, Brandon, has been working with us to help our clients make strides in their email marketing efforts. We'll let him take it from here.
At MAKE, we help you meet your business goals by learning about you and your goals and work together to create the best strategy for your business. As you think about beginning your email marketing journey, here are a few things that you should be considering as you move into that marketing channel.
What are my goals?
Email marketing can be one of the most important pieces of your marketing efforts for your company. Establishing your email marketing goals should be tied back to your business goals.
Are you looking to create new leads? Or maybe you want to push people to your website to sign-up for an incentive program. Taking the time to think through your goals makes it easier to determine what kind of content you send and who you send that content to, while also helping you track the progress of your marketing efforts on your overall business performance.
For example, our client City Rent a Truck came to us with a massive problem: Many of their emails were going to spam. So we designed and implemented a plan to clean and segment their email list in order to get them out of spam folders and into the right inboxes. Want to know more? Read our case study about it. (We'll give you a hint: it went really well). Check out how it went.
Who is my audience?
In email marketing, your audience is one of the most critical parts of your campaign. From a practical standpoint, you can't do email marketing without one. Your audience will help guide all points of your strategy, from content to cadence.
So if you are just starting out creating an email marketing approach, how do you find your audience? Although you may think about buying your contacts, we definitely don't recommend it. Seriously, just please don't do it.
Here are two of our tried and true ways to grow your email audience list:
Organic email requests
Your audience should come organically and be fostered from other parts of your business. This is because organic lists would actually be welcome to receiving communications from you since they opt-in to that experience. When you buy or rent email lists from outside sources, you are sending communications to people who didn't willingly opt-in to your emails. Other than annoying those people, you put yourself at risk to be marked as spam. The more that occurs, the worse your IP reputation becomes and that ultimately leads to your emails being undeliverable. And you definitely don't want that.
Ways to foster your email list organically include:
Implementing subscription forms on your website

Sharing sign-up forms in social media posts or profile bios

Creating opportunities to have consumers opt-in throughout the purchase process
Enticing lead magnets
Another way to gain traction in gaining an audience is through the use of lead magnets. Lead magnets are pieces of content that offer consumers extra value and can be obtained through providing contact information. They include and are not limited to ebooks, checklists, infographics, and special offers/discounts.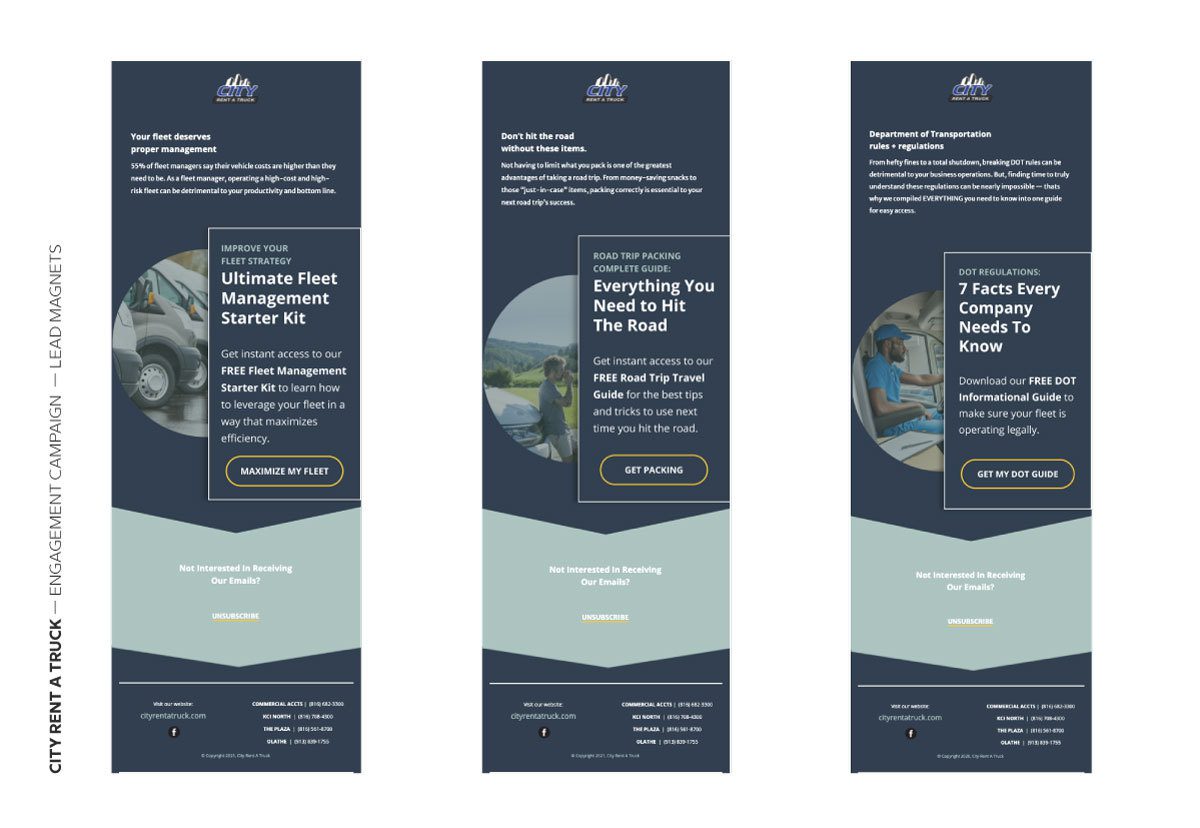 Think of it as something they really, really want to have and would be willing to pay you for it in the form of their email address. Like just today, our Copywriter Taylor filled out a lead magnet form for Kraft Mac and Cheese, where she gave her email address to the company in exchange for a free box of Valentine's-Day-themed pasta. That's the level of value you need to provide: melty, irresistible goodness.
What do I want my email marketing to do for me?
The last question to ask when starting your email marketing journey is what you ultimately want to do with your marketing campaign. Your goals can be specific or broad, as long as they fit with your business goals and the audience you cultivate.
There are generally three objectives that email marketing can help you fulfill:
Increase conversions (selling products or services)

Build brand awareness

Cultivate customer loyalty
Increase Conversions
If you are looking to increase sales, emails can play an important role. A few things types of emails that come to mind are promotions/special offers and abandoned cart emails.
Promotional Offers:

These are a simple yet effective way to increase your products and services' awareness. This can be an email featuring a specific product or service you would like to push or deals you are running soon. Depending on the amount of information you have from your audience, you can even send discounts or special offers on a contact's birthdays and anniversary emails with special offers.

Abandoned Cart:

As for abandoned cart emails, they are used at the end of the purchase cycle when customers add an item to their cart but have left your site without purchasing. After a certain period, an automated email is sent reminding the customer what they left in their cart on the website. This type of email has seen up to an average of a

10% conversion rate.
Build Brand Awareness
When you're looking to build brand awareness, you can use email newsletters and press releases to inform your audience about what is happening with your company. This can be related to new company initiatives, new business updates, or informative documents like blogs to position your company as an information hub for your industry.
You should also think about your email design. You should look to grab your audience's attention with unique designs, but you should also be consistent with your brand identity. You don't want someone to get an email and wonder who it's from; your design must match your content in other marketing channels like your website and social media. That will consist of your voice, fonts, colors, and logos so that consumers continue to recognize your brand.
Cultivate Customer Loyalty
Ultimately, you can use email to foster customer loyalty by being there at every stage of the buyer's journey. We discuss this in our blog "What Is An Email Marketing Funnel? 4 Actionable Tips For Conversion". Starting from awareness and moving through to advocacy, there's a myriad of touchpoints for your business to reach out to consumers and foster a relationship with them throughout the email marketing funnel.
Within those touchpoints, you should look to personalize emails to your audience. Personalizing content will allow consumers to feel valued. Using someone's name in the "To" line instead of their email address or using information that you have to curate specialized content can go a long way in helping you stand out from all of the other emails that your list receives daily.
Now That You've Got Your Wheels Turning … Now What?
Maybe you're thinking to yourself, "This sounds complicated. Am I ready for this?" Well, that's what MAKE is here for.
Email marketing can be a powerful tool in your toolbox as you find new ways to grow your business. If you think you are ready to start your email marketing journey, MAKE would love to discuss how we can help facilitate that transition. Our dedicated team can help you navigate and find success in an ever-evolving industry, business innovation, and changes in user behavior.
We create and activate brands in innovative ways by combining business goals with digital strategy and trends. Click here to schedule an appointment to discuss how we can help you with your marketing needs.