Brie Stiens is MAKE Digital Group's Marketing Project Manager. She works with Asana each and every day to make sure tasks are neatly organized, correctly allocated, and properly notated.
When deciding which marketing project management software to use, our team landed on Asana because of its clean and user-friendly format and its ability to effectively organize tasks in one place.
Learn more about our marketing project manager's favorite Asana features to help your team stay organized and on task throughout the day!
1. Custom Fields
Asana's custom fields are great for surfacing critical information, like priority level and approval stage. This allows you to keep work moving on-time and on-budget when it comes to marketing project management.
Here are some fields we commonly use:
Priority:

This field helps your team focus on high-value projects and communicates the reason why work is prioritized the way it is.

Page URL

: A lot of our marketing tasks are related to the client's website. This custom field describes exactly what page the issue is on so there's no confusion.

Estimated Hours: When quoting to a client how long a specific task might take, this tool is extremely beneficial. The project lead determines the estimated hours a task will take to give clients an idea. This feature also helps our team see where the project falls in comparison to other tasks for the client.
Actual Hours

: This feature is exactly what it sounds like! After a task is completed, this field is filled out with how long it actually took to complete the task. Not only does this help with time tracking, but it always feels good when you complete a task faster than the estimated time.

QA

: QA stands for quality assurance—and it's a vital part of not only getting things done, but getting things done right! This field is used to notify the person doing the task of who to assign it to for QA.
Here is an example of some of the features you will find on Asana: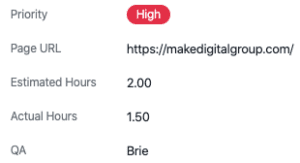 2. Workload
Another favorite Asana feature of mine: Workload! This tool replaces Forecast, a marketing project management tool previously used by MAKE. Workload provides a high-level look at capacity within the internal team.
To consistently produce amazing creative assets, you have to be process-driven enough to keep projects organized and moving forward, but flexible enough to take on additional requests and shift workaround to meet deadlines.
Asana's Workload feature helps with that by:
Overarching team workload


Workload helps you see what your team is working on at any given time, plus each individual's bandwidth based on task quantity and required effort. As new, high-priority tasks come up, you can assign the work to team members who have high bandwidth or reprioritize workloads and timing.

Want to see just one team member or one group's current tasks? With "Filtering," you can see the work of specific team members. Handy, right?

Future forecasting


This tool is useful for future forecasting because you can create "holds" for tasks. These holds represent where an upcoming project may fit, notifies our team about projects on the horizon, and allow us to see where we might be able to sign more clients for project-based contracts.
3. Kanban Boards
A Kanban Board is a visual way to plot out projects and workflows using columns and cards. It is also a task scheduling system that maximizes the productivity of a team by reducing idle time.
Why should you use Kanban Boards?

Save time

Identify opportunities for efficiency improvement

Stay organized

See an overview of project and task status
As a marketing project manager, I utilize Kanban Boards to easily see what phase a development project or task is in and what progress has been made. Here are some of the board columns I use to stay organized throughout the development process:
Open

Approved

In Progress

Rejected With Bugs

Ready For Testing

Ready For Production

Closed
Can't quite visualize what I am talking about? I have provided pictures below of what these boards would look like in Asana!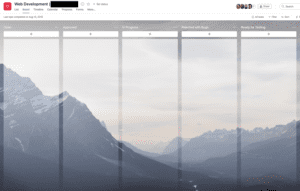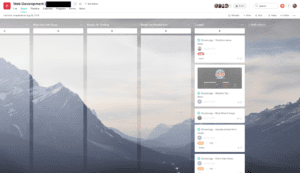 4. Templates
Templates make my life as a marketing project manager a lot simpler by helping maintain consistency!
First, templates are extremely helpful when onboarding or offboarding a client. For example, MAKE has different processes we follow for template websites versus custom websites. Consequently, "pre-building" these templates and using them when a client signs a similar statement of work helps us eliminate time in the marketing project management stage; we don't have to put in the tasks again, and it will prevent us from forgetting any specific steps.
Additionally, if we have a client for which we are completing SEO for, we first onboard them with our "Onboarding SEO Template." This template accomplishes any task, ranging from getting client credentials for Google Analytics, Google Search Console, Google My Business, etc., to setting them up on marketing tools they don't currently use, like SEMRush or Ahrefs.
From there, the template covers tasks like executing a baseline audit, completing competitor and keyword research, and recommending a content plan or next action steps.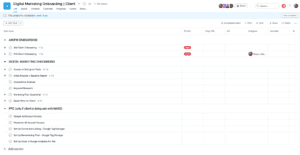 5. "Pin To The Top" on Task Comments or Attachments
This feature comes in handy when reading lengthy comments or attaching revised versions of work. It's like trying to play catch up on a seemingly endless email chain … You really only want to know the most important information from the thread!
How does this feature work?
To elevate a comment, simply click the pushpin icon next to the timestamp and it will be highlighted in yellow. If a comment is no longer relevant, just click the pin again to remove it from the top of the thread.
This is especially relevant to our team when our Account Manager needs to send something to a client. We can just pin it to the top so she knows exactly what she needs to send! Talk about efficiency! This is why we love Asana as our project management software for marketing.
6. Portfolios
MAKE uses the Portfolios tool to share status updates of projects with everyone on the team. For example, we have a portfolio for all of our website projects so they are all housed in one singular place.
Portfolio makes my life as a marketing project manager easier because of its ability to manage multiple projects in one place and keep everyone in the loop on project status.
Did you know? If you have been added as a member of a Portfolio, you can receive a weekly report email, provided that you have your email notifications turned on. Even if you don't have your email notifications turned on, you will automatically get notifications in your Asana inbox!
At MAKE, we try and update these portfolios weekly or when a big milestone has been hit. This tool keeps everyone in the company informed, updated, and all on the same page about the status of projects.
Here is an example of what our Portfolios section looks like:
I hope you have learned a little more about project management software for marketing and the helpful features we love using at MAKE Digital Group!
Questions or comments? Contact us at (816) 866-6253 or on social media! We would love to hear from you.