There are more than 32.5 million businesses in the United States, all vying for customers' attention online or in-person.
Think about the last thing you bought. Whether it was a coffee at the local cafe or a new pair of boots online, there was something about the brand that made you purchase its product.
Maybe it was just a feeling you got when you landed on the website and explored the visual brand.
Maybe you remember seeing the brand name on your friend's social media feed.
These are all critical pieces to brand identity. A strong brand identity can help businesses stand out in a crowded marketplace and leave a lasting impression on their potential customers.
What is a brand identity?
Brand identity is defined as a visual representation of a brand and is what makes you instantly recognizable to potential customers.
A brand image is a holistic approach to a brand's visual elements and includes things like:
A color palette

A strategic logo design

Specific typography or typeface

Imagery and graphic elements
It can also include brand values, employee training methods and customer service approaches, ultimately anything that helps express who your brand is.
Together, these components create an identity for a company's brand that can set it apart from the competition and establish a consistent and repeatable approach to marketing materials and touchpoints.
Through consistency, your audience will learn to associate your brand identity with your specific product or service and set the foundation for establishing brand loyalty.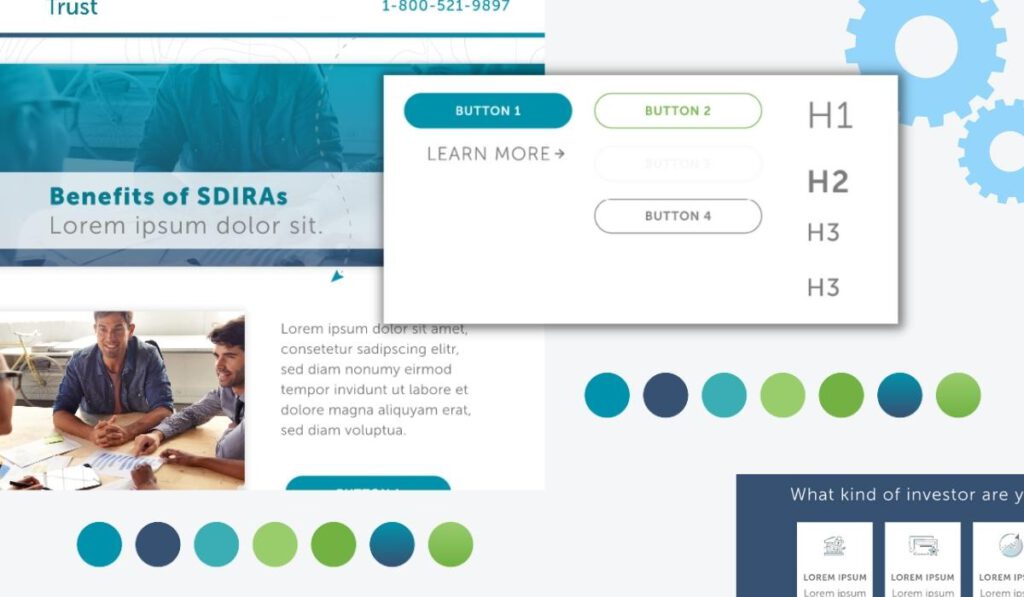 Why brand identity matters
In the United States, 60% of millennials expect consistent experiences when dealing with brands online, in-store, or by phone. Providing consistency to your potential customers starts with having a buttoned-up brand strategy in place.
One of the most essential pieces of a brand strategy is brand identity.
We often hear entrepreneurs and small business owners say that they'll invest in a brand identity once their business is up and running. That's like saying you'll create a mission statement and core values once you've already built your website or marketing materials.
Building a strong brand identity, and in turn, a proper brand style guide, before you start marketing, will provide your business with a North Star that every employee, potential customer and marketing manager can understand.
Here are just a few of the many reasons why your brand identity matters.
It sets your business apart
People form first impressions in the first 10 seconds of seeing something. That means your brand identity needs to make an impression and make it fast.
Your brand should look and feel like a distinct entity—not a cut, copy and paste version of another successful business. The difference between a good brand, a great brand and a successful brand is its ability to sell customers on its value proposition and differentiation.
Otherwise, it only comes down to dollars and cents.
It builds credibility
You've seen it before: A business utilizing a logo design and font from Microsoft Word (Comic Sans, perhaps?) and expecting that to be enough to start their business. While that may have been the norm 50 years ago, today, that work just isn't going to cut it. Millennials and GenZ customers will immediately turn in the other direction and make a different decision about who to work with.
Having a good brand identity, meaning one that is consistent, well-designed and up-to-date, can make a significant difference in how your business is perceived.
It evokes emotion
Every piece of your visual identity works together to make your target audience feel a particular type of way about your business.
If your brand personality is fun and hip, you may consider approaching graphic design through bold brand colors like lime green and pink and unique typefaces. Apple is an excellent example of this—its imagery, design and even its new iPhone Max 13s, offer bold, creative colors that create a sort of whimsical approach to its brand image.
If you want to come across as traditional and strong, you may consider using reds and blues and simple yet consistent designs. For example, our client iResQ device repair came to us looking for a new visual identity that helped them stand out in the crowded Kansas City market while also staying true to their core values (service to others, efficiency and reliability).
This case study highlights how we came up with the final project and what went into establishing a new brand identity for a well-established company.
It creates brand recognition
The best brand identities can be spotted from miles away. Sure, we can't all be Nike where a simple swoosh gets the job done. But, even small businesses can benefit from a strong brand identity.
At the bottom line, your business is selling a product or a service. But what too many companies fail to realize is that to convert a customer, you need to prove your value—and a recognizable brand identity can do that.
Without a brand image, you're just a product. With a strong brand identity, you're something worth investing in.
Building brand recognition is what will keep your customers coming back to you time and time again.
It makes your job easier
Most importantly, having a consistent brand approach makes the process of designing and distributing marketing materials a whole lot easier.
When you have a templated approach to design and branding, there's no need to think about recreating the wheel every single time you need to reach out to your target audience.
Instead, you'll know exactly what should go on your next poster, social media graphic or company business cards.
You can create templates and brand assets that can be reused and rotated through without having to think twice about whether or not they hit your business or audience goals.
Not sure where to start? We can help. Contact us today for a free consultation.