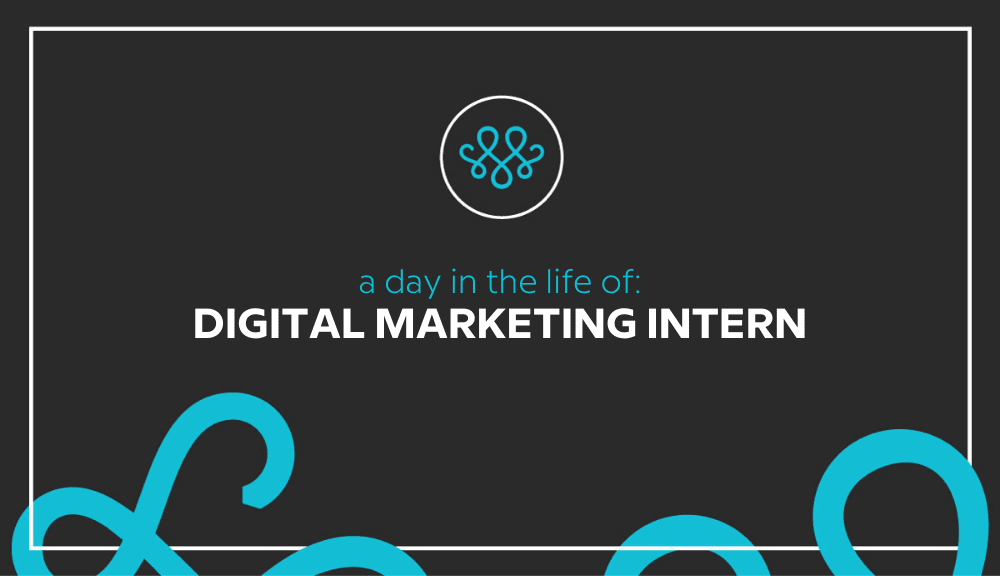 This month's Meet Your MAKER features our new Intern Hannah! Hannah is going into her senior year at Kansas State University as a Marketing major. She helps us out with a range of different tasks at the office to get a feel for the areas of marketing that MAKE specializes in.
7:30AM
Just like every other weekday, I am woken up by my alarm at 7:30. I usually try to hop out of bed right away so that I am not tempted to "rest my eyes" for another 30 minutes. The first (and best) part of my morning ritual is to pour myself a large cup of coffee with plenty of french vanilla creamer. Then, weather permitting, I wander out to my backyard to sit on the porch swing and enjoy my coffee outdoors.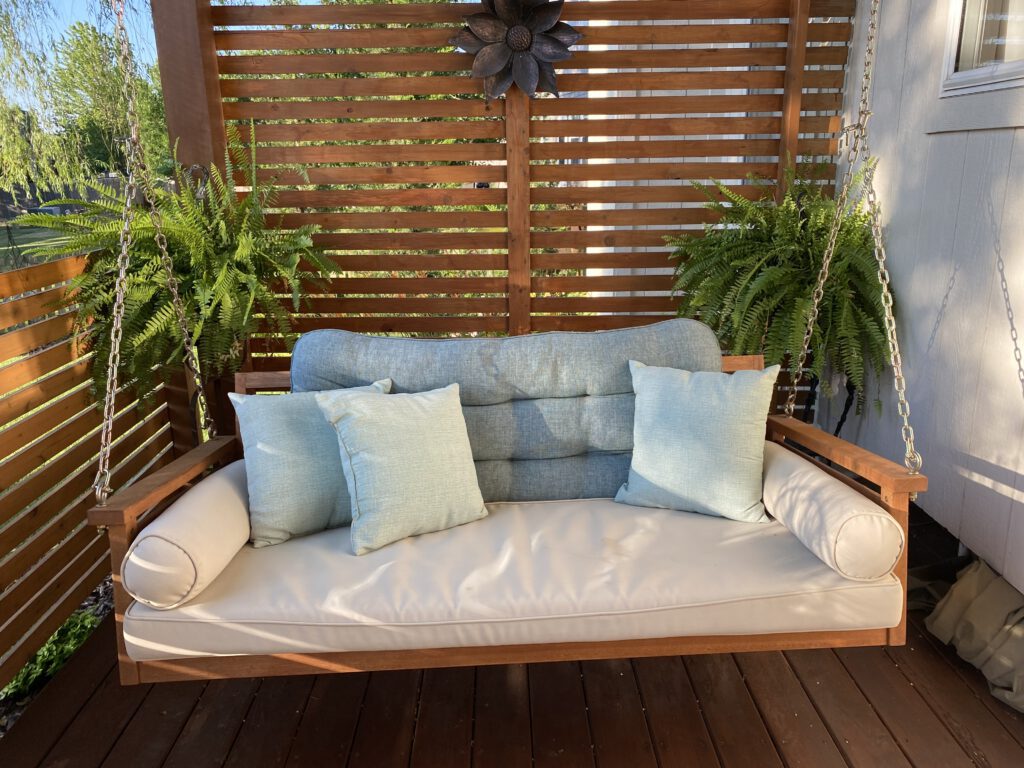 8:00AM
My 30 minutes of peace and quiet are up and now it's time to get myself ready to go into the MAKE office. A quick shower, then hair/makeup/outfit, and I'm ready to go.
9:30AM
I begin my 30-minute commute into the city. Depending on my mood I enjoy listening to music or a podcast during the drive.
10:00am
Once I arrive at the office, I first need to get acquainted with what I have going on today. Checking Slack (a messaging tool MAKE uses), Teamwork (MAKE's project management tool), Gmail, and my calendar gives me an outline of my tasks and allows me to effectively prioritize them in order from most important to least important. As an intern, I have to wear a variety of different hats, so each day is never the same as the previous one!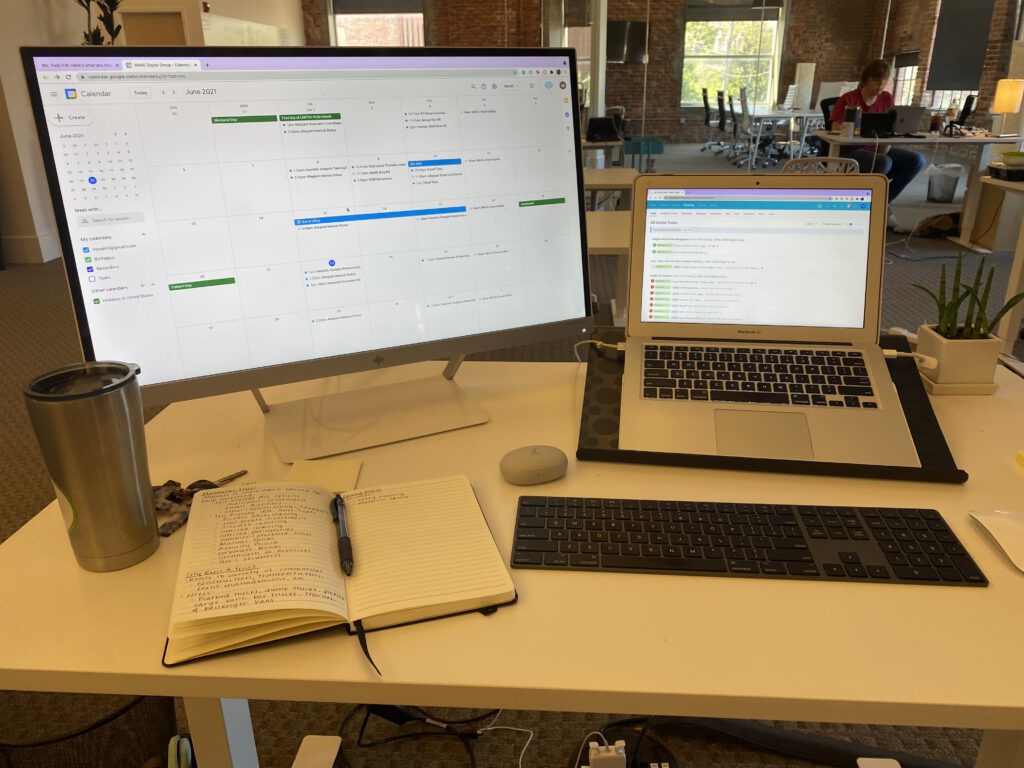 10:15am
Most days, my first task is to take a look at the social media profiles of the competitors of one of MAKE's clients. I carefully comb through their Facebook, Instagram, Linkedin, and Youtube profiles and add any new findings to my running deck of competitor updates. Sometimes not much has changed in the last day, but it is my job to keep a pulse on what the competitors are doing and update the team.
11:00am
My next task is to prepare this week's Google My Business posts for some of MAKE's clients. If you are not familiar with Google My Business, essentially it is a tool for businesses to connect with their customers through Google. For instance, when you search for a company on Google, the section on the right-hand side of the page with business hours, location, and description are Google My Business.
To plan out the posts, I enter them into a document that Brandon, our Email & Marketing Manager can review and provide feedback on.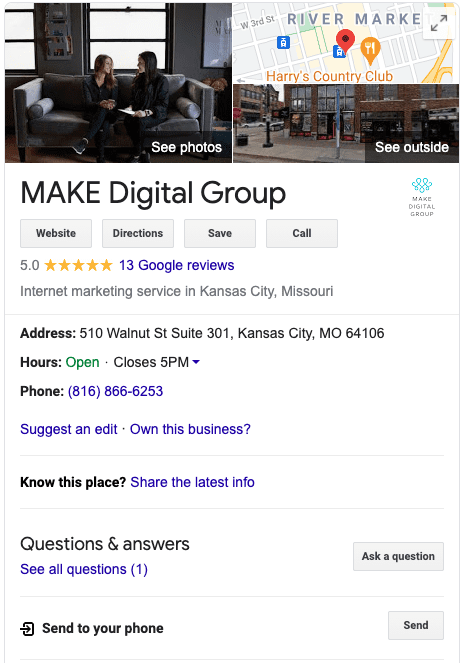 12:00pm
Lunchtime! I head over to the kitchen/breakroom area of the MAKE office to heat up my meal. There is a table for us to eat at, but most of the time I eat at my desk so that I can check my email again and mark some things off my to-do list.
12:30
I have a few finishing touches to add to a project I've been working on before my meeting later with Austin, our SEO Manager, to review my progress. The purpose of the project is to conduct a heuristic analysis of the MAKE website. This task is something completely new to me as I have zero experience with SEO!
Although it has been a challenge, I have really enjoyed pushing myself to learn about this area of marketing.
1:00pm
Now I head over to Austin's desk to review the progress of my heuristic analysis. Now is the time for me to ask any questions that have come up about the project in the past few days. Then, Austin gives me a rundown on the next steps of the project and we set up a meeting time to reconvene later.
2:00pm
Now I have half an hour to get a head start on the next part of my heuristic analysis before my meeting with Taylor, our Copywriter and Content Strategist, and Lisa, our Director of Client Strategy.
I start transferring my analysis findings from a google sheets document into a presentation format so that I can share them with the team in a few weeks.
2:30pm
Time to meet with Taylor and Lisa in the conference room for our weekly discussion about Allegiant's Internal Status. During this meeting, I have an opportunity to share updates about what Allegiant's competitors are up to. My responsibilities for the rest of the meeting are to listen, take notes, and learn.
3:00pm
Immediately following the internal status meeting, I have a meeting with just Taylor so that I can get an overview of a new project I am starting this week. This project has to do with conducting some industry research. [See, I told you I help out with a wide range of tasks!]
4:00pm
Done for the day! Now is the time when I wrap up whatever I am working on, check my email and calendar one last time, and then make a mental note of what I should start on first thing tomorrow.
5:00pm
By this time I have usually made it back home and am greeted by my very excited miniature dachshund, Karly!
6:00pm
I usually try to go to the gym around this time, however, this evening was particularly beautiful outside so I decided to take my dog on a walk around the neighborhood instead.
7:00pm
Time for dinner! One of the perks of living at home during the summers as a college student is that my mom still cooks for me, so I enjoy a home cooked meal and spend time with my family as we talk about our days.
8:00pm
One of my favorite things to do after a busy day at work is to relax and watch Netflix! Around this time I get into some comfortable clothes and choose a show or movie. Some of my go-to's include Friends, New Girl, and That 70s Show!
10:00pm
That's it for my day, Goodnight!