When it comes to social media strategy, not all industries are created equal. At MAKE Digital Group, we treat each customer's social media strategy differently depending on their industry and their business goals.
Here are a few facts about social media strategies for restaurants:
93% of consumers say online reviews impact their decisions

84% of customers trust online reviews and personal recommendations equally

75% of people purchased a product because they saw it on social media

49% of consumers learn about food through social networks

37% of users utilize social media to research before making a purchase
Connecting with current and potential customers is absolutely crucial for restaurants who want to stay relevant and make a splash in the community. Here are 9 tips for creating a social media strategy for restaurants that gets people in the door and a part of the conversation.
Choose the right platforms
It might seem like your restaurant should make a profile on every social media platform available. But in actuality, not all industries should use the same social media sites. Restaurants should use Facebook, Instagram, and Twitter.
Instagram is the most popular social media site for restaurants because it allows for imagery and real-time updates with stories. But Twitter is growing in relevance for restaurants. Compared to other industries, restaurants see the most engagement on Twitter because it allows for organic conversations. And of course, Facebook is an excellent platform for pretty much every type of industry.
Give accurate profile information
This is a big one that many companies gloss over: Make sure your information is accurate! That means address, phone number, hours, menus, etc. This is not one of those set-it-and-forget-it type things. Your information should be updated continually as your business changes to make sure that a customer can get all of the information they need when they come to your social profile.
This also extends to other online listings, like Google My Business, TripAdvisor, and Yelp. If your information is different between sites or profiles, it can actually hurt your Google ranking by making Google think you're not a legitimate company. It can also hurt your customer experience and credibility if they can't seem to find the answer they're looking for.
Use real photos (not stock!)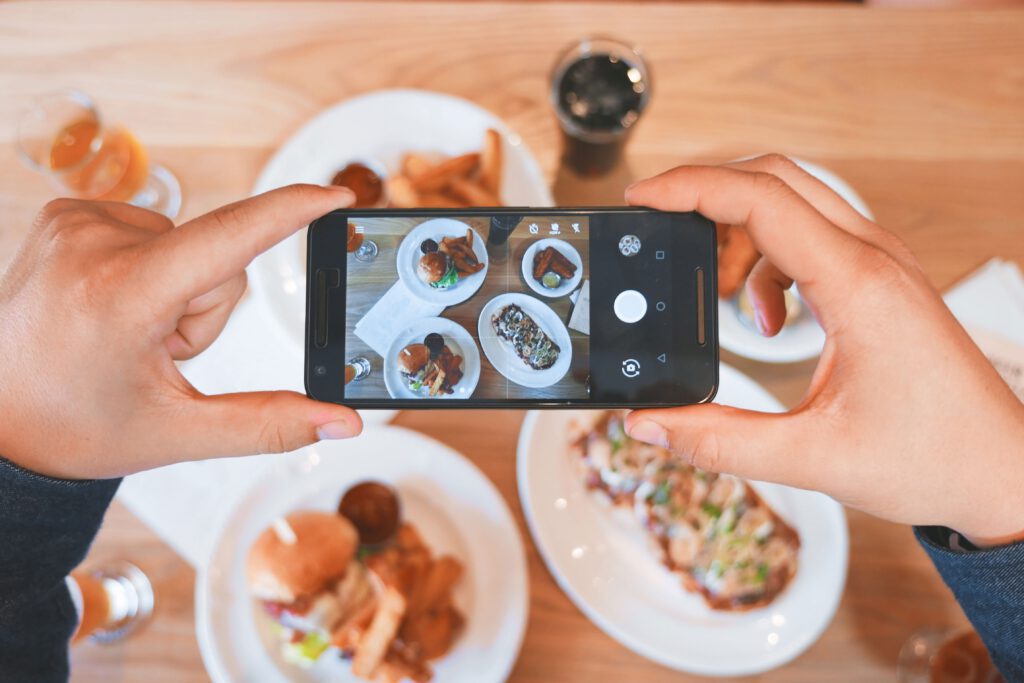 Good photos sell stuff. That's just a fact. And with restaurant social media, nothing makes someone want to visit your restaurant more than a mouthwatering image of a fun cocktail or delicious plate of food.
Most people can tell the difference between stock photography and real restaurant photography. Because of this, you really, really need to post actual photos of your food, your restaurant, and your people on your social media accounts. It will give customers a better idea of what to expect when they visit.
If you are being dishonest in imagery, it might lead to customers not returning to your restaurant or talking poorly about it online, which may inhibit others wanting to visit your restaurant in the future.
Re-engage customers who talk to you
One of the cardinal rules in social media is that you respond to every comment, every single time.
We like to look at positive posts and comments as low-hanging fruit. You can share or screenshot positive feedback to let your other followers see what good things are being said about you and help you build a better relationship with that specific customer.
And even though it may be awkward, you should also respond to all negative comments—especially if you respond to all the positive ones. Brand-to-customer engagement leaves an impression on the customers. You may not be able to change their opinion of their previous experiences with your establishment, but it can help you make a better one at that moment.
Don't leave any food on the table when it comes to an opportunity to make a good impression.
Join the community conversation
What are your potential customers talking about? What do they care about? Don't be afraid to jump into a conversation online! For example, if you see someone asking "where's the best happy hour near me?" and you offer a great happy hour and you're near them … tell them that! Or if everyone is talking about the Superbowl or a local event, you should absolutely find a tie in where you can.
You can also start the conversation as well. One of our favorite ways to get people to interact with your business online is to ask them questions. This is a fun way to encourage a greater conversation and leave your customers with a lasting impression.
Talk about more than just you
Some restaurants fall into the trap of just sharing menu items over and over again. This is the opposite of a social media strategy. It's boring, somewhat lazy, and won't generate the response you're hoping for.
Social media should be a natural conversation. A real, two-way one with questions and answers—not just a spam account for product information.
To really distinguish your business as an impactful member of the community, you should promote those around you. The more you become an authentic voice in your community, the faster your community is going to listen to you.
Here are a few of our favorite ideas for restaurant social media posts:
Highlight local growers.

If you purchase ingredients locally, make sure you talk about those companies! This is a great way to heighten conversation and show your dedication to your community.

Feature regulars.

Do you have a group of ladies that comes every Wednesday for Ladies Night? Don't be afraid to talk about how much you appreciate their loyalty. This will help instill more loyalty from that group as well as make you look like you care to those outside of it as well.

Introduce employees.

From bus boys to back-of-house staff, your employees are the bread and butter of your restaurant. Don't forget to introduce and feature them!

Share customer reviews.

Reviews are free publicity! A vast majority of your potential customers are going to research your restaurant before visiting, so make sure they have something positive to see.

Go behind the scenes.

Give a tour of the kitchen or a step-by-step video that walks through how to make one of your most popular menu items. You might be surprised by what your customers are interested in.

Show off your facility.

Is there a story about the art on the wall? What about where you got your chairs? Use your social media to highlight what a visit to your restaurant would look like.
Host giveaways/contests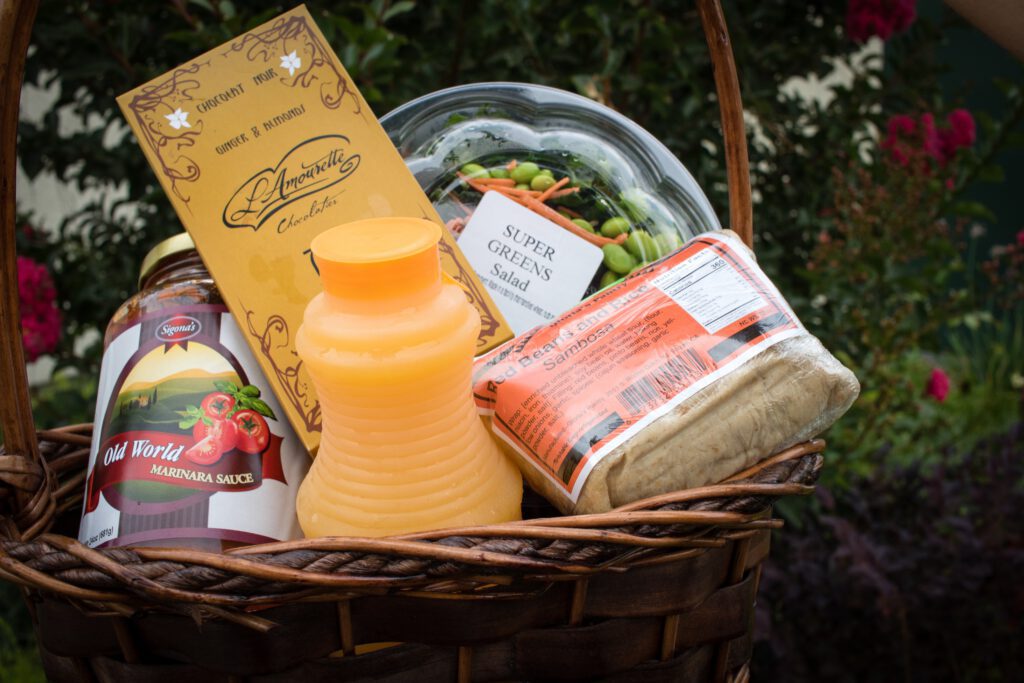 If you really want your content to spread like room-temperature butter, host a social media contest! Contests are a great way to amplify your brand and reach new customers with minimal investment.
The key to running a successful contest for restaurant social media is to have an exciting hook. A gift card is a common giveaway item for restaurants because it involves minimal investment and ensures that the winner will actually visit the restaurant.
In addition to gift cards, you can also give away:
Gift basket with related products (i.e. barbeque sauce if you're a BBQ restaurant)

"Night out" prize bundle (partner with local restaurants)

Recipe book

Wine giveaway
You should outline your contest very clearly for your customers. Make sure your contest involves sharing your content in order to reach more potential customers. We also recommend requiring people to follow your account in order to win—that way you have them on your friends' list for the next time you run a contest!
Another idea for social media contests is to ask people to create content for you! For example, if you have a seasonal cocktail menu at your restaurant, you can ask people to share a picture of their favorite cocktail for a chance to win a gift card. This will really help you when it comes to our next favorite social media tip for restaurants …
Share user-generated content
This is our favorite social media tip: Share content that's already out in the world. According to Ad Week, user-generated content is more influential than brand content. Customers are twice as likely to share posts that come from user-generated content rather than brand-specific content, so don't overlook this!
In today's social age, there's a common saying that the "phone eats first." This saying means that, before eating, a photo has to be taken. So in all likelihood, that picture is going to be posted somewhere—and it's your job to find it and repost it.
When you share user-generated content often enough, your customers will recognize that and it will become a sort of snowball effect, where more people will post in hopes of seeing their content re-posted on your account. For most customers, it's fun to have their content shared on a larger platform, so don't be afraid to ask them if you can use it! Just make sure you tag them in your post.
Partner with a professional
The problem with social media strategy is that everyone with a smartphone wants to call themselves a professional. While having someone at your restaurant run your social media account can simplify and personalize your strategy, it might be more hassle than it's worth. Plus, you may not be reaching your target market or promoting the right brand voice.
Having a professional on your side can help make posting unique content and engaging with customers an easier and more purposeful experience. It will help improve customer service and retention, streamline branding, and provide a more flavorful experience for your customers.
Want a partner to help you navigate the confusing world of restaurant social media? Let us help. Contact us today to learn more.