"A logo is an intentional story that a customer can associate with a brand."
That's how our graphic designer Gabbi approaches the logo design process. We sat down with Gabbi to discuss what went into the logo design process for iResQ and how every step played an important role in the final deliverable.
Start THE LOGO DESIGN PROCESS with a brand questionnaire
At MAKE, we always start with what we call a "brand identity questionnaire." This is a document that we use to help our clients start thinking about their logo in more detail while giving us a little more to go off of than just "we want it to look good."
This questionnaire asks questions like:
What needs to be included?

An icon? Tagline? Color?
What cannot be included?

Pink? Leaves?

What's the elevator pitch for your brand?
We also utilize spectrums to better understand what they're hoping for out of their design. For example: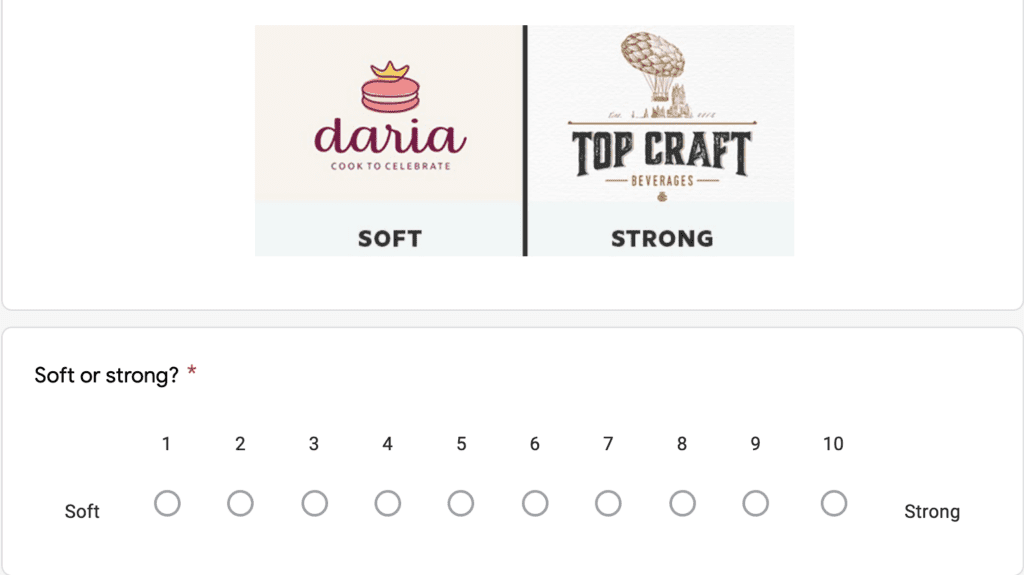 Some of these are easier than others, but they really help us get a feel for what they want from their logo. Plus, it helps them start thinking more creatively about the process and get more excited about the logo design process.
Spark creativity with word associations
Now to start thinking bigger, we like to do a word association exercise.
"Word associations are the spontaneous and unreflective production of other words in response to a given word, as a game, a prompt to creative thought or memory, or a technique in psychiatric evaluations."
With this exercise, we just write down every word that comes to mind when thinking about the brand. With iResQ, that could be anything from a wrench to nerds to a circuit board. For our team, this exercise is essential in creating a foundation for creativity and open-mindedness.
Here's an example of her word association during the logo design process using the word "Repair"
| | | | |
| --- | --- | --- | --- |
| Repair | Glasses | Wrench | Tools |
| Cast | Band-Aid | Splint | Stitches |
| | Ambulance | Heartbeat | |
Sometimes, we can get wrapped up in one idea, usually a very literal representation of the brand, and have a hard time stepping out of that zone. Word association helps "free yourself of the limitations" that come with brand identification—allowing the brain to connect the dots in a creative way to be unique.
And in marketing, where there are millions of logos and brands and identities, unique is much harder to achieve than one might think.
Word associations can help with that. Using these words as a jumping-off point, the logo design process becomes a matter of putting together different pieces of the puzzle to find a design that works.

Put pen to paper
With a bunch of words in mind, it's time to start sketching. By putting together certain ideas and phrases, the logo design process can become a sort of match-making process of seeing what works together and what doesn't.
For iResQ, the sketching process manifested into about 100 different ideas on paper. With Illustrator or Photoshop, there are physical limitations to what can be designed and the feasibility of a particular concept.
But with sketching, there are no boundaries. It's a means of solving a complex problem—like how to prove a brand's identity in a 3 x 3 square logo—without having to hash out the details.
Build out digital versions
Obviously, a logo can't just be drawn on a piece of paper, so the next step is to build the digital logo design. This is where things can get a little tricky, with colors and constraints. This is where creativity meets feasibility. From matching colors and getting the gradient just right to the perfect leading and kerning of the typeface, this is where the details start to matter.
Leading up to this point, pretty much anything and everything is free game. But once it gets down to digital design, logistics start to dictate the end result. This part of the logo design process can be frustrating but rewarding at the same time.

Edit, edit, edit
Then we work back and forth with the client to narrow the design down to a few final elements, starting to understand what they like and what they don't.
Often, our clients don't know what they don't want until they actually see it, so giving them something to react to can help us deliver a better final result—even if it's one that's completely different than where we were initially headed.
During the editing stage, the most important thing to remember is that we're all on the same page and want the same results: something that the client loves that works for the brand. Sometimes it can be hard to stay detached to certain designs (and yes, there's always that one design that we secretly hope our client will pick), but it's the name of the game.
The editing stage is like watching your child leave home for college: excited to watch them develop but sad to see them go.

Celebrate
Once the final design is done (and built out in 100 different capacities for different uses), it's time to celebrate! Watching the clients, their customers and the community react to a new logo and brand is truly one of the most rewarding things we do here at MAKE. If you want to watch our logo design process in action for your brand, schedule a free consultation. We'd love to chat.