How the basics of leadership apply even more during a pandemic.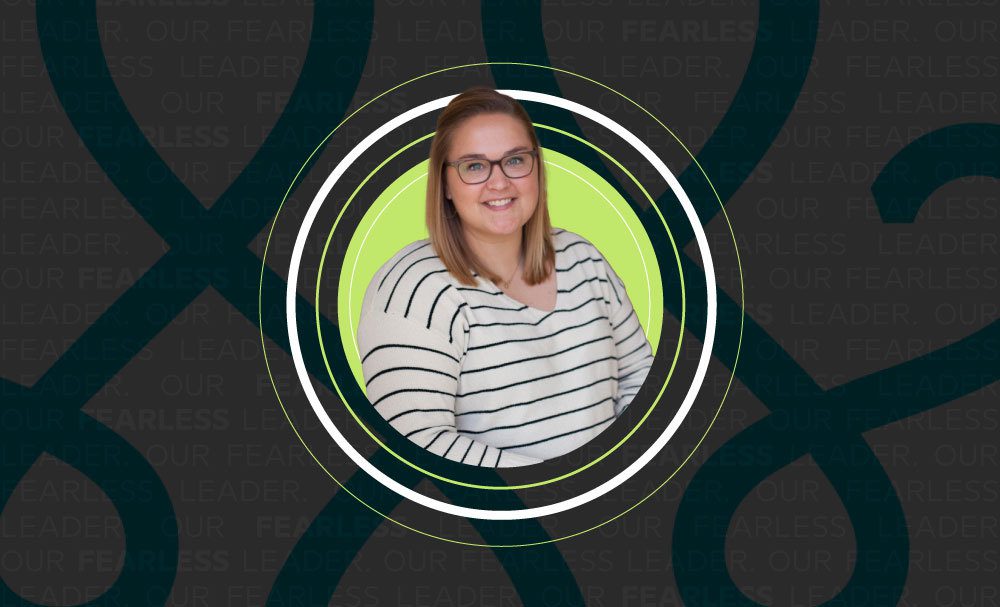 It's not over yet, but maybe we're starting to see peeks of light at the end of the tunnel.
How is it March when it was just March? Really? Can it have been a year already?
A year. A year of working from home, hoping the dog wouldn't bark in the middle of my video call, cursing when the camera didn't turn on the way it was supposed to. A year of flatting the fly-away hairs at the top of my messy bun just before saying "Good morning, team!" on the first call of the day. A year.
It's both gone so fast and So. Darn. Slow. And yet, we made it. We're here! But, how? What did we learn from those infamous "unprecedented times" that have now become our new normal?
Just before the pandemic shutdown really took hold in Kansas City, I became MAKE's Director of Marketing with a new team, new things to learn, new processes to absorb, and new people to enjoy getting to know. Two weeks in, I was leading that new team from home and trying to find my footing just like everyone else, while also still believing that this was temporary.
As a digital marketing agency, the virtual world felt like home (no pun intended) for a lot of our team, and we shifted into our new day-to-day fairly easily, but we weren't immune to the challenges that were going to sweep over small businesses quickly in the next few weeks. We saw our clients face issues they'd never experienced before and our colleagues and peers face battles we hoped they never would. It was the reality of the time and we were treading water too.
But, as the weeks progressed and we found some solid-ish ground as a team, we pulled together more, supported each other with our time, our ears, our hearts, and our minds, and found new ways to process the challenges that seemed to morph like smoke.
Looking back on the changes that I've seen my team lean into with all their might, I'm humbled by them and grateful to them, and for better or worse I can honestly say that they taught me so much along the way.
My Team
And
My Teachers
Over my first year at MAKE, my team taught me that the basics of teamwork and leadership apply today more than ever:
Good things take time

10% better each time compounds into significant progress

Everyone needs to be managed in their own way

Transparency has never been more important

Stepping back to reflect became our biggest opportunity
Good Things Take Time
I couldn't tell you who said it first, but I can tell you whoever they were could not be more right.
Good things really do take time. And I am not a patient person by nature.
The moment COVID drove us into our home offices/living rooms/free corners in our homes, I wanted to fix everything and anything that would help my team work better. Frankly, so did they. The list of necessary improvements was long, and the wishlist of desired changes grew and grew.
So much of me appreciated their drive to find better ways to work together given our new circumstances, but the reality was that things around us were changing daily and we needed to implement the things that would make us the most efficient as quickly as possible.
Just like good marketing, we then needed to optimize those new practices over time. It was a true "test and learn approach."
We tried all-agency meetings, new Slack channels, full-team emails, long status meetings, short status meetings, and meetings just for face-time together. In the end, the most valuable practices stuck and the others were thrown away or repurposed.
Over the course of a single year, we had three different status documents and attempted three different mandates on the length of time a meeting can be, and I'm still not convinced that it can't be better.
Strangely enough, if you ask the team which meeting in their week they're not willing to give up, it's not our team status meeting or our project management discussions—it's our standing Friday Coffee meeting where the rules are: no work talk, just real talk.
It's 30 minutes of just being real people in a virtual world, every week.
Make It 10% Better
As we weathered the storm of relearning to work together as a marketing team during COVID, some of us were also learning to work together for the first time. This included me as the head of the marketing department. We had a lot to learn, and a lot that we wanted to improve.
But the reality was (and still is), that even in normal circumstances, we couldn't snap our fingers and magically put in all new processes, brand new lines of communication, or heck, even trust each other's work overnight. That would take incremental steps toward improvement.
And thus the team slogan (although they'll deny it and say it was just mine) was born… "just make it 10% better." As a team, we all bought into the idea that if we could make it 10% better this time, and 10% better next time, gradually we would see the improvements we needed.
We knew that the deck was stacked against us with heavy-hitters like COVID, communication errors, and so many meetings in a single day that getting work done between 8-5 was impossible.
But slowly over time, we chipped away at our challenges, and as our 10% improvements began to stack up, we built momentum for new ideas. In the end, some of our changes took this full crazy year (again, how is it March?) to come to fruition, but our slogan worked!
We gradually improved our client work, our internal processes, our ability to prove success, and as a team we brought new and better ideas and ways of thinking into our agency. Like a whole new way of thinking about email for our client City Rent a Truck or a new brand voice for our clients iResQ.
Our team took pride in a whole host of new projects from 2020 that made each of us feel like we'd pushed to be a least 10% better and by proxy so much more.
"MAKE Digital Group, you guys should give yourself a pat on the back…these results are significant and this is work well done."

— Jeff Schuetz, City Rent a Truck Owner/CEO

Management Means Managing

Sports history is riddled with stories about coaches taking the strengths of individual players and molding the perfect team. This applies to managers too. Just like each player is different, so is each staff member.

And in a stress-prone pressure cooker like COVID, managers need to be prepared to manage each person individually even more than normal (p.s. what is that word? Normal?)

As it became more and more clear that our temporary shutdown was not so temporary, each team member gradually worked into the right cadence of work that jived with their needs.

As a manager, I had to learn to respect that. I couldn't bark orders, or make demands from my corner desk (not that I ever would—scary thought). Instead, I had to respect how they worked best. Show-stopping insight? Nope, it's been a management trend for a while now. But it never had been put to a test like COVID.

For some of our team, late nights became their "bewitching hour" cranking out work until 10 pm or scheduling six emails to deploy perfectly into inboxes at 8 am.

Have you ever opened your inbox at 8 am to find six emails from the same person sent at 8 am? I have.

Others needed more "face time" to stay connected and motivated, which meant more meetings, but also more productivity. I'll prioritize the latter every time. Some needed new goals to achieve with a clear path forward, a standardized set of expectations in a world where what we expected was no more. And still others needed to be pushed to see a potential in themselves that they hadn't recognized until forced to do so by the extremes of the COVID universe.

My advice? Let your team tell you, or show you, what they need. Respect that. Heck, facilitate that (with boundaries) and allow them the freedom to be responsible adults capable of really kick-butt work when they're given an environment that allows them to thrive.

Everyone gradually found their own path through the day. And while we waited for a small slip-up or a hiccup along the way, they never came. The new trend in the team's approach to their work/life balance even inspired them to establish a new company-wide blog series in 2021 featuring a day in the life of each team member.

See how Brandon navigates his responsibilities as our Digital Marketing Coordinator and how Taylor works through the ins and outs as our Copywriter. Follow the series all year for more insider details!
Transparency Is Key
COVID is rough. It has been for everyone. We've all made tough decisions, had setbacks, seen hard days, and fought off that feeling of "man, what's next." Along the way, it would have been easy to keep things close to the vest, avoid sharing the scary things, or hold information back "for their own good." But empathy and transparency are core values of our company.
Acknowledging that our team was capable of turning our passion for marketing, our clients, and for each other into our motivation meant connecting our whole team with the realities of COVID. We chose to share our challenges freely and with full transparency to allow our team to see the full spectrum of the difficulties in front of us.
In turn, our team bonded. They decided to take on the challenges in front of us together. Today, any member of our leadership team would openly tell you that through it all our company culture has continued to evolve and improve by embracing transparency.
We shared the burden of the hills we needed to climb as a group, and we subscribed to the notion that a good idea really could come from anywhere. It wasn't just lip service for us. We gave our team the information they needed to succeed and in this case, it was the truth about the situation that COVID brought to our office doorstep. We embraced their ideas and allowed the team to try-try-again until we found the spaces that allowed our work to shine.
The team created new systems to evaluate content marketing and new tracking opportunities to report success and challenged the status quo on the old way of thinking. The team dedicated themselves to finding new ways of approaching our work that drove efficiencies in all aspects of marketing—research, ideation, development, review, and execution.
They knew we needed to work smarter, not harder. (Jeez, how many buzzword concepts can I fit into one blog?) But it was true. And I did say at the beginning that the basics of leadership were never more true than during COVID.
Anyway, the moral of the story is that our transparency with them allowed the team to understand the scope of the situation and find workarounds.
We Reflected
Just like this article looks back at the last year, the team also took moments along the way to reflect on our progress, our needs, and our goals. As the year went on, it became more and more clear that the respect we'd built for one another over a challenging time was also being emulated by our best clients.
We found ourselves digging into the trenches with our clients, collaborating deeper, and rooting more and more passionately for their success. We shifted our core services as an agency to reflect the things they needed and the things we loved to do. We wanted to see them succeed, and they wanted us to succeed as well. We took a good look at the type of work that we wanted to do as a team and the type of work that our clients needed us to do, and we pushed into those new services hard.
This reflection became our greatest accomplishment. We moved from being the right-hand men and women for our clients to their right, and their left, and everything in between. Just as our company culture was pressure tested during COVID, so were our service offerings and our client relationships.
As we leaned further into strategic decision-making based on rationale, our clients began to see new results. They allowed us true opportunities to "test and learn" given the "unprecedented times." No one knew exactly how it was going to all shake out, so it was time to try the things we'd all wanted to for so long!
Honest truth: The results aren't in on all those campaigns just yet. I guess you'll have to check back in on our blog in a few months for more MAKE case studies (she writes with a wink).
The End Is Near
Hopefully of COVID, but definitely of this blog.
All in all, as we welcomed March 2021 this month, it's hard not to look back on the path the team took to survive the challenges. And while it's easy to hope that it's all going to get better soon, it's harder to recognize that we're going to have to keep leaning on the things we've learned from the chaos of 2020 to help us get through whatever comes next.
As my team would say: just make it 10% better.