Creating an effective website design is key to driving sales and boosting engagement with your target customers. Reputable brands take time to optimize their customers' digital experience, which can translate in having a website that people want to visit. Brands looking to be competitive have to know how to keep up.
A website that is well-structured, easy-to-use and optimized for SEO is one of the most effective tools for businesses to see growth.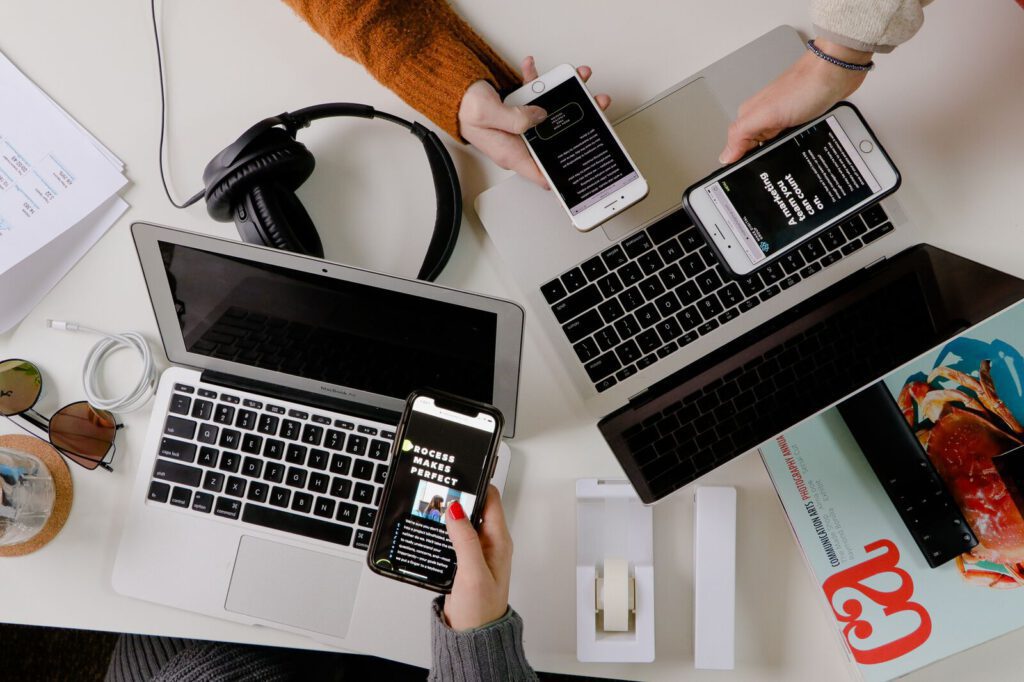 DECLUTTER YOUR WEBSITE
A simple and clean website will not only be visually appealing to the consumer, it will lead to higher conversion rates. A study by Google found that as the number of elements on a page (images, text, titles, etc.) rises from 400 to 6,000, the probability of conversion drops 95%. You will miss out on a substantial number of people who choose to leave your website simply because they find it too overwhelming. Although you may have a solid product or service being offered through your website, the clutter can get in the way of your message and get lost in translation.
Have a design that's simple and clean will also help your company stand out to your consumers. Easy ways to begin the decluttering process include: cutting down on the number of pages, using more negative space and only keeping features that serve a purpose. If you begin to think of your website as a digital storefront, you can see that attracting more people initially to the website will create more conversations and more opportunities for consumer interaction. Begin spring cleaning by getting rid of stock photos, personalizing your text and creating a consistent and minimal design.
OPTIMIZE FOR MOBILE
More and more people are using their smartphones to browse and shop, so it's important that your design is optimized appropriately for mobile.
Remember when optimizing for mobile sites:
1. Create simple and easy-to-use forms
2. Include clickable buttons (note: hover effects don't work on mobile)
3. Above the fold isn't gone entirely
4. Think 'code' instead of 'images everywhere' to increase site speed
5. Make interface actions effortless
Think mobile first. People are using their smart phones to search for your company, so you'll want to make yourself as visible as possible through search. According to OuterBox, 79 percent of smartphone users have made a purchase online using their mobile device in the last six months. When you're preparing your site for mobile, you should also think small. You want your website to load quickly and efficiently. If you begin to clutter your site, users will likely feel overwhelmed. Instead of taking the time to find what they're looking for, they'll exit your site. Consider redesigning your website to give it a modern and minimalistic feel.
Take the time to learn SEO and implement it. The best mobile SEO practices include high page speed, site design and concise titles and meta descriptions. A helpful tip would be to not block JavaScript, CSS or images on your site. Steer clear of Flash and other pop-ups that could interfere with the consumer's experience.
OPTIMIZE YOUR IMAGES
Having positive and professional quality images will be more inviting to site visitors, and can be an effective way to make them want to stay on your website longer. People respond positively to higher quality images. Not only that, but using only high quality images can reflect the quality of your business as well. Make your consumers know you care and put your best effort into everything you do.
Visuals are key to creating customer-brand connections. Today's consumers live fast-paced lives and don't always have time to sit and read the copy on your site. For this reason, consumers are now looking to photos and videos to tell the story. The photos and videos you use should enhance your brand's identity and depict your call to action. The more consistent you can be with your brand identity, the better.
Since studies have proven that today's customers make decisions based on emotion rather than logic, it's often the relationships that you create with your customers that matter most when you're establishing a competitive edge. The best thing you can do when focusing on photo and video is to make sure your brand is memorable. To do this you have to stick to your brand identity and keep the consumer in mind. Your photos and videos will likely be the first place the eye will go to on a page, so make sure it stands out.
MAKE IT EASY FOR CONSUMERS TO ASK FOR HELP
If a consumer, or prospective customer has a question about your company, they should be able to get their question answered quickly. The longer it takes them to find the contact us feature, or Frequently Asked Questions (FAQs) page, the more likely they are to leave. Make sure your customer service options are easily accessible and include options to contact through phone, email or live chat. The quicker you can solve the consumer's issue, the better the chance that they will return to your site.
Live chat is becoming the new standard in customer service because of its efficiency and convenience to consumers. Not only is live chat helpful to consumers, it will also save your company a lot of money and gives you a competitive advantage to your competitors. Read about more live chat benefits here. Depending on the urgency of the question or complaint, letting the consumer choose an option will likely leave them feeling more satisfied with the customer service.
HAVE A CLEAR CALL TO ACTION
The initial site visitors are much more likely to turn into customers if you make it clear what action you want them to take. Create a compelling call to action for your site visitors to prompt them to take the next step. Whether that be starting a conversation, buying a product, signing up for a newsletter or scheduling a consultation — it should be clear what you want them to do, and how you can best serve them in what they're looking for on your website.
Utilizing these tips can help increase traffic to your site, conversion rates, sales, and ultimately leverage your brand for greater success. If you're looking to take your website design up a notch, our team of web designers and developers are ready to help you make it happen.
A deep-dive analysis of your website + digital channels allows you to identify key strengths and weaknesses in your digital strategy, opportunities you can quickly capitalize on, and a long term strategy to give you an edge in the competitive landscape. Get your free website audit today!