It seems like every day we are hit with new avenues and opportunities for marketing, from TikTok to guerilla marketing to everything in between. But like that friend you've had since elementary school who has been with you through the ups and the downs, email marketing still remains a top contender in the digital space.
With a potential audience list of more than 3.9 billion and an average return on investment of $42 for every $1 spent, email marketing is, honestly, one of the most underrated types of marketing.
And the best part? You can put your marketing on autopilot with an email marketing funnel. Here's how.
What is an email marketing funnel?
First things first, let's explain what an email funnel is. An email marketing funnel is a content strategy designed to push someone from potential customer to paying client using messages targeted toward where they're at in the buying process. 
Each email in the funnel (or content plan) is written specifically based on what information the consumer has already seen and what they may need to know in order to become a customer. For example, if you add someone to your email list from a PPC ad, they may still be unaware of the benefits of working with you as a company. Utilizing your understanding of where they came from and where they need to go, you can gently but purposefully guide them through the process in a way that makes sense.
How to build an email marketing funnel
Building an email marketing funnel may sound really complicated, but it's truly not. Here's what you need to know when creating your sales funnel.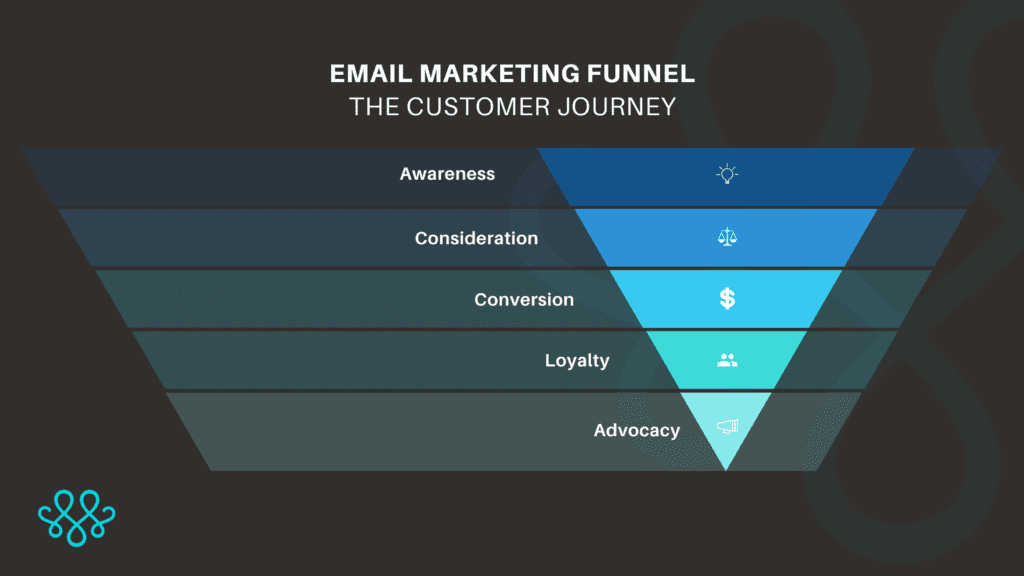 Understand email marketing campaign steps
There are five steps a customer must go through in an email marketing funnel:
Awareness

Consideration

Conversion

Loyalty

Advocacy
Again, each step of the email marketing funnel will have a different type of message for the consumer. Let's talk about each one a little more in-depth so you can understand the type of messaging a consumer may want during each step.
Awareness 
This is like a blind date. At this stage, you two are basically strangers (in fact, they may have already forgotten that they agreed to be on your email list in the first place). So you need to pitch yourself, and you need to do it well. 
Think of it as building your dating profile. Keep it fairly high level, but make sure you highlight the most important parts about you. For example, it's good to mention that you love being outdoors, but maybe don't mention that it's because you're an avid skinny dipper. That's not the level of information we're going for here.
Awareness stage topics:
Company mission and goals

Benefits of working with your company

Blogs and videos for more information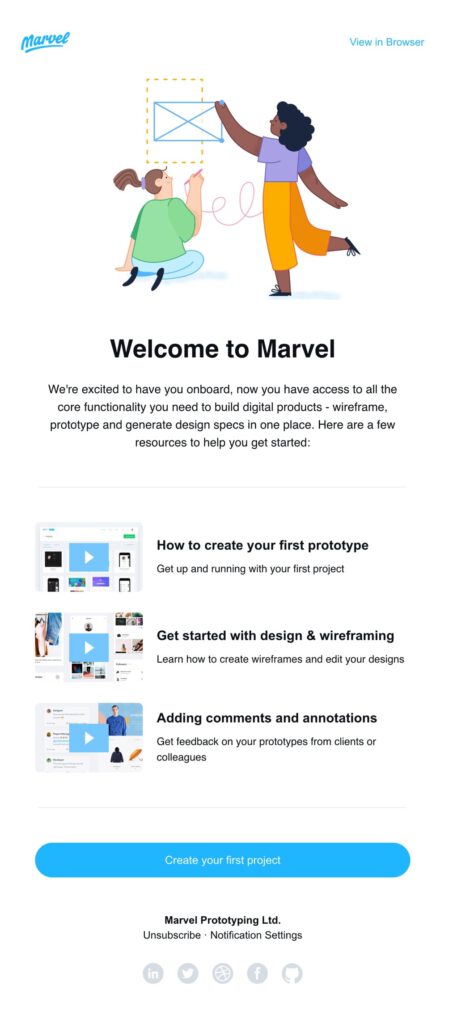 Why this works:
A simple welcome email is always a great opportunity to bring awareness to your brand. Marvel used cute imagery and multiple videos to help customers see just what they get when they choose to use this brand. 
Consideration 
You're on your second date. The person is interested, but definitely not sold on moving forward with a relationship. Maybe they're only with you for a second date because they wanted a free dinner or their friend canceled on them last minute. Either way, you have another chance to grab their attention before they run off into the night.
During the consideration stage, it's very likely that the consumer is still seeking other options to figure out which one is right for them. Now's the time to turn up the sales pitch charm a little bit by offering useful content and information designed to help them solve a problem.
Consideration stage topics:
How to use the product

Identify a need they didn't know they had

Solve a problem for the customer

Customer reviews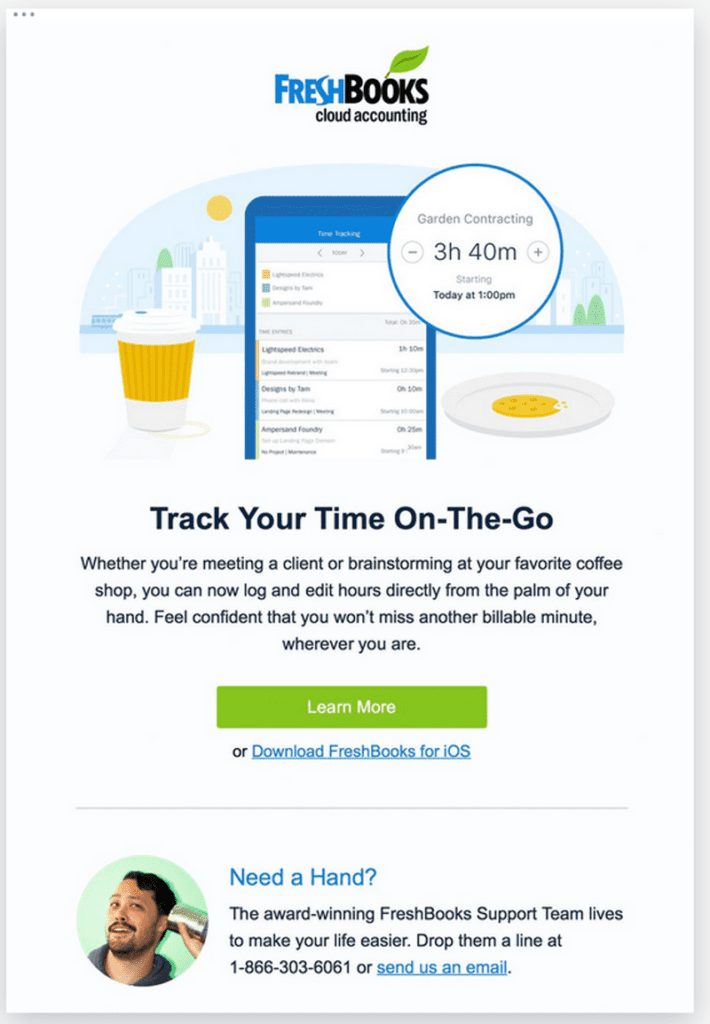 Why this works:
FreshBooks has clearly outlined a problem that customers face: how can I track time when I'm not at my desktop? Then, they offered a direct solution to that problem with a blog and even an additional CTA for help.
Conversion 
It's time to seal the deal. They are ready for you to make a move. Now's the time to be cool, calm, and collected. Now's the time to offer an incentive. 
There's no better way in email marketing to get a conversion than to offer a discount on a product someone is interested in. Whether it's free shipping or a 10% discount, it's time to help them move forward into the purchasing stage.
Conversion stage topics:
Discount code

Incentivizing freebie 

Cart abandonment emails

Benefits of a specific product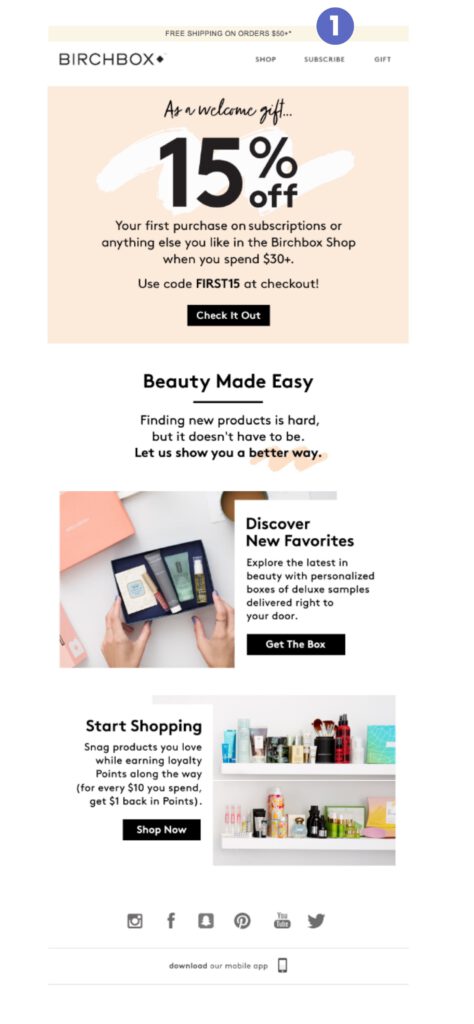 Why this works:
Birchbox offers customers a discount on services with their first box. It also outlines what's in the box and what else they get when they become a customer. 
Loyalty 
Now's the time to deliver flowers to him or her at work. During the loyalty stage, it's important that your message is authentic and honest to your brand. You've already sold the product, so now you need to re-sell your company as one they want to use again and again.
Loyalty stage topics:
Thank you for your purchase

Leave a review

Invitation to join social media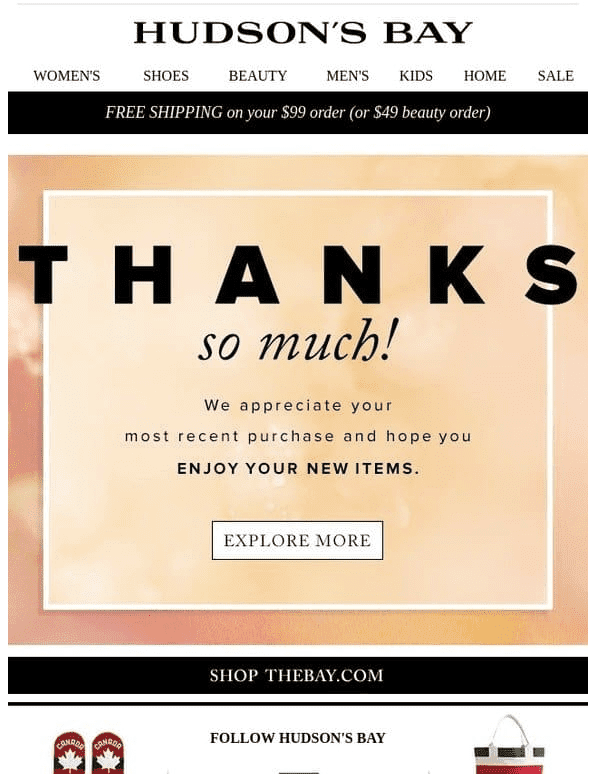 Why this works:
Not only is this thanking the customer for their purchase, but it's also giving them the option to explore more items and follow the company on social media. These are two great ways to encourage greater loyalty down the road.
Advocacy 
Advocacy is like meeting the parents. 
During this stage, you're challenged with figuring out how to turn a customer into an advocate—one that wants to share your benefits with their friends and family. This stage is a time to get creative in the way you continue to build your relationship with the customer through your marketing.
Advocacy stage topics:
Referral rewards

Newsletters with sharable content

Freebies to give to friends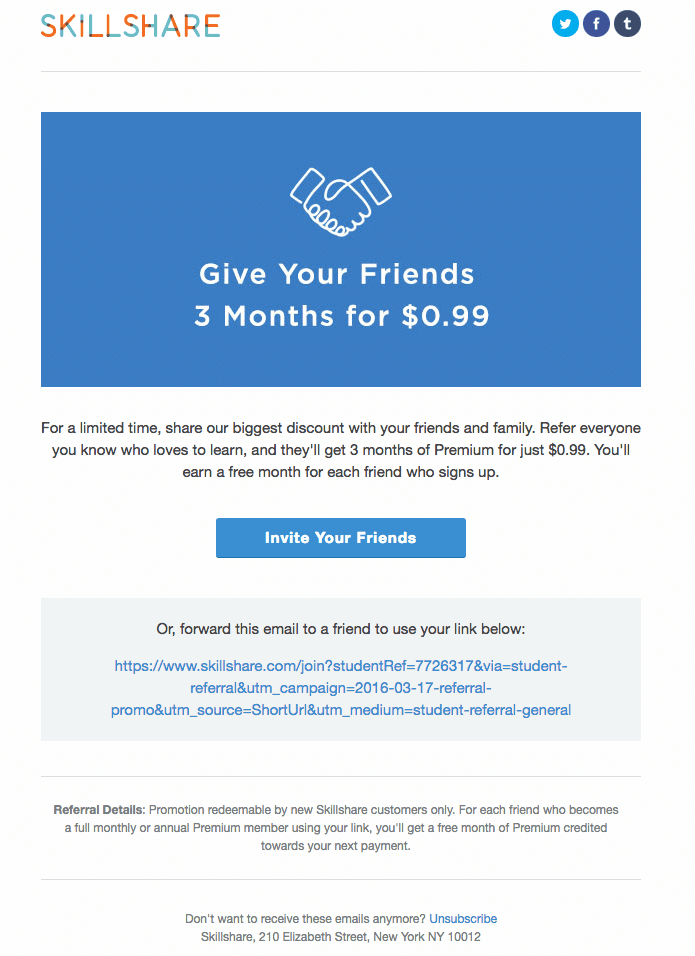 Why this works:
 it offers a benefit to both the current and potential customers. By combing a discount for new customers with one for the person who offers the referral, it helps your customer feel taken care of and more likely to share it with their friends. 
Figure out how to move them through the funnel
Now that you know the types of content you need in your email marketing funnel, you need to figure out how to make it actually work. 
A common way to do this is to base their movement through the email marketing funnel on an action. For example, if your awareness email links to a page on your website for them to learn more, you can count their "click" as a trigger to move them to the next step so that they receive a consideration email next.
Many email marketing automation systems make it very easy to do this. Our favorites are MailChimp and Constant Contact, but there are many to choose from!
Continue to engage (and retain) your customers
As mentioned above, the advocacy stage should pretty much be forever. Ultimately, the goal of this is to get them to become a repeat customer time and time again. To do this, we recommend continuing to find ways you can add value to your customers, either through new and engaging content or routine discounts and coupons on products you already know they love. 
You may also consider creating tiered offerings that are designed to engage customers at certain places in the funnel. For example, customers who use your discount code every time you send it don't need to be enticed by 40-50% off. 
Don't "set it and forget it"
Ah, doesn't it sound amazing to just make an email funnel once and never have to touch it again? Yes. Of course, it does. But just because you can automate your email marketing funnel with the intention of never touching it again doesn't mean that you should.
After your funnel has been in place for a few months, it's time to dive into the metrics to see what's working and what's not. A few things to look out for include:
Open rates:

Low open rates may indicate that your subject lines aren't working or your subscribers are wary of your from email address.

Click-through rates:

Are people actually doing what you want them to do? Low click-through rates are usually a sign that the information that you're providing isn't useful to the receiver.

Conversion rates:

Are people actually buying what you're selling? If they aren't, maybe it's time to change up your CTA or include some additional discounts.
This is arguably the most important part of the entire email marketing funnel strategy. Without insight and without metrics, you'll never know if the effort you're putting in is working. And if your message is off, you may be doing more harm than good in terms of engaging and retaining customers.
Looking for a partner to help you design, implement, and perfect your email marketing funnel? We're your team. Book a complimentary strategy session to learn how we can help your team do more with your marketing efforts.