At MAKE Digital Group, we're more than a digital marketing agency that simply works to get tasks done and deliverables out the door. We're a team that leads with innovation and creative insight to help bridge the divide between companies and sound digital marketing strategies.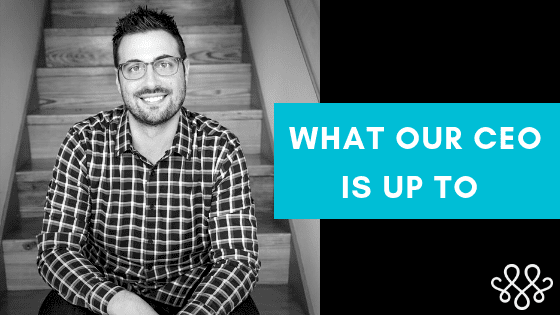 It starts with good leadership.
And – that's where our CEO, Evan Kirsch comes in. Evan is driven to help companies and their employees grow, develop and position themselves to become notable leaders in their industry or trade. He is well-versed in what it takes to run stable, progressive and profitable businesses, and knows how to get all the moving parts aligned to create momentum that keeps companies moving forward. A visionary, inventor and entrepreneur to say the least.
Evan works to find ways to stay one step ahead of emerging business and marketing trends, and is constantly deepening his knowledge by reading books and engaging with respected industry thought-leaders.
Recently, he was handpicked to be a part of a workshop put on by Mike Michalowicz, author of Profit First and The Toilet Paper Entrepreneur. Mike is currently running his third million dollar venture and working on his next book for small business owners & entrepreneurs called, Fall in Love With Your Business. (Fun fact – Mike Michalowicz happens to be Evan's favorite business-related author.)
This year, Michalowicz invited 21 entrepreneurs from across the country to participate in an intensive-style learning and discussion for a new methodology he's incorporating in his next book. Fall in Love With Your Business is about exploring the concept of aligning your business with your heart, and the methodology does just that. This workshop will give entrepreneurs the opportunity to walk through this new methodology and Michalowicz the chance to test its effectiveness and hear from his participants what works well and what needs some tune-up.
There's also a possibility this discussion will be used as a case-study in his book. Which is pretty cool, if you ask us.
Evan will be attending the workshop on November 30th in New Jersey. Follow us on our social channels for updates + insights from his trip!
About Mike Michalowicz
"Mike created the "Profit First Formula", a way for businesses to ensure profitability from their very next deposit forward.
Mike is now running his third million dollar venture, is a former small business columnist for The Wall Street Journal; is the former MSNBC business make-over expert; is a popular keynote speaker on innovative entrepreneurial topics; and is the author of Profit First, Surge, The Pumpkin Plan and The Toilet Paper Entrepreneur, which BusinessWeek deemed, the entrepreneur's cult classic."