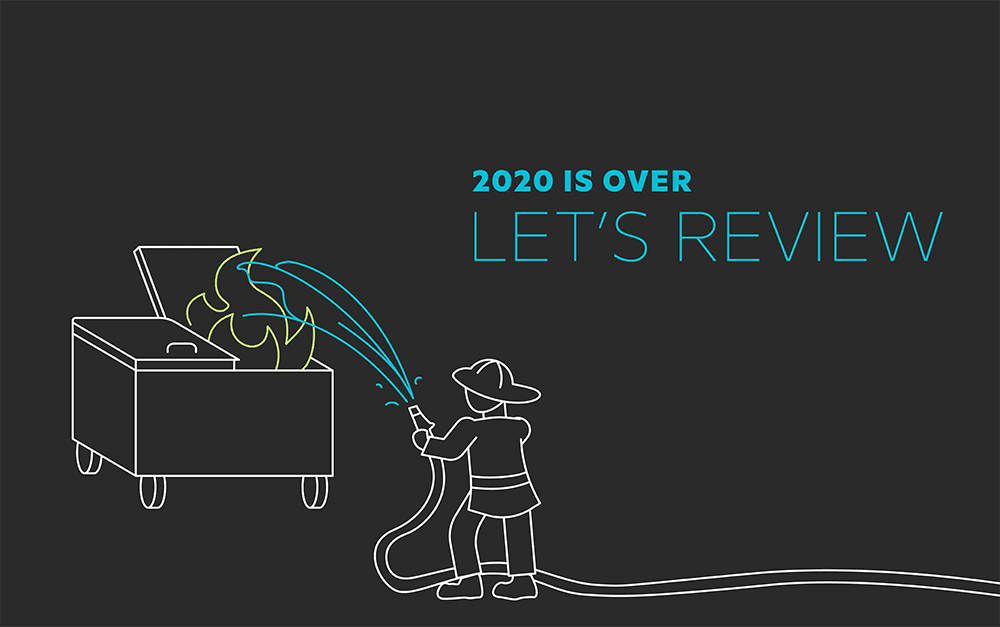 Despite the dumpster fire that was 2020, it was also a massive year for our team. From adding new members (Austin, Brandon, Denise and Gage) to taking on new clients and new opportunities, 2020 gave our team the chance to really flex our creative muscles when it came down to getting quality work done.
And even though we have been apart since about March 15, relying heavily on Slack and our project management system to keep us organized and connected), we were able to turn out some quality projects and processes that made us really proud.
Our Director of Operations Kevin said it best: Going through 2020 as a team really showcased the resilience of our staff, and allowed our camaraderie and support to shine through as we navigated the year together.
So, in the name of humble bragging, this blog is dedicated to those very things that made us proud in 2020.
Designing Kick-Butt New Websites
For MAKE, 2020 was the year of website launches. In total, we either redesigned or made completely new websites for 13 of our clients. And, we worked on a few more that aren't ready to go yet, like Creative Director Ryan's favorite — the new iResQ website:
First of all, the clients are cool as can be. They know what their brand stands for and what they want their digital properties to deliver, yet they stand aside and let us work our magic using our expertise to deliver on their vision. Secondly, the project itself provided just the right level of challenges and opportunities for us to really flex our web design muscles.
We came up with a unique aesthetic and layout to fit their brand like a glove, and we came up with a custom graphics library complete with animated elements to really bring the designs to life.
Both Corey, Senior UX Designer, and Seth, Web Developer, chose the new Corner Cafe website as their favorite projects. Seriously if you had seen this old website, you'd wonder how in the world we created such magic with so little to go off of. Both teammates said they pushed themselves to design and build a new website that paid homage to the Corner Cafe's rich (and totally delicious) history but also meet the fast timeline constraints.
And to no surprise, our Senior Web Developer Patrick loved working on the highly technical aspects of The Roasterie's site, specifically the Powercard gift card integration. For Patrick, this project allowed him to create something that was entirely custom and start his codebase for this microservice from scratch, which "made it more stressful but also made me more proud of the end result and I felt that it was a really good learning experience."
Creating Email Marketing Success
In 2020, we also made it our goal to truly dive into one of our client's email marketing campaigns to see where we needed to make improvements. And it was a huge success: After implementing an entirely new campaign, we increased their average open rate from 5.7% to 42.85%.
We created two email marketing funnels (learn more about what email marketing funnels are in our blog!) for both their engaged and unengaged subscribers to help try and narrow down their list to people who actually wanted to hear from them.
This was our Graphic Designer Gabbi's favorite project because of how much strategy went into the process. Not only did she get to redesign their entire email presence (which was needed for this more established brand), she also got to receive direct feedback from the client to really figure out what worked and what didn't.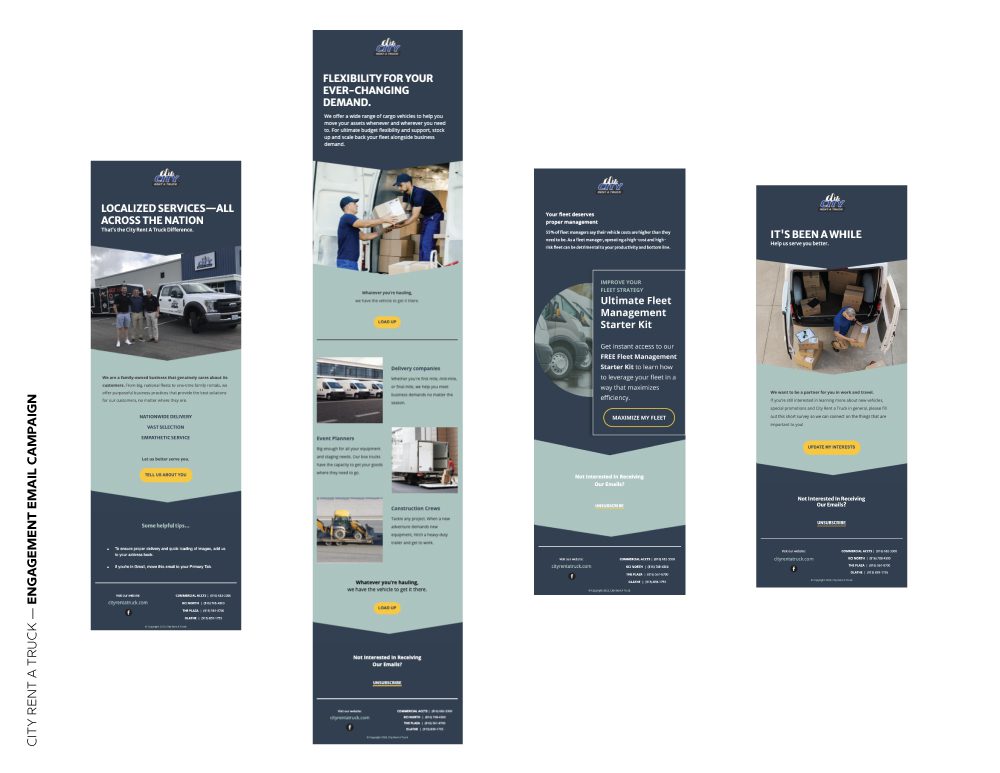 This project was also a favorite of Brandon's, our Digital Marketing Coordinator. As we call him internally, Brandon is our Swiss Army Knife of an employee who does everything from implementing social campaigns to establishing this entire email funnel. "It's been a lot of great work from all involved and we are excited to take the learnings from this campaign forward into other projects."
Building New Internal Expectations
2020 was not a normal year—and it brought about a lot of struggles as an internal team. But these struggles also meant that we had an opportunity to truly create something new and fresh when it came down to internal processes and expectations.
Austin, our SEO Manager, took charge and created a new SEO Checklist that narrowed down an extremely complex idea into something that both our internal team and our clients could understand. And if you know anything about SEO, you know that's not an easy task. He then turned some of those thought-starters into a Halloween-themed post titled: Scary Good Marketing: 5 Seo Tips To Sink Your Teeth Into!
Our Copywriter Taylor helped create a new process for establishing a brand voice for our clients. In addition to building a new website for iResQ, we also designed a new brand voice and architecture for the company. In her words, "this project really delivered an authentic final product that I think both teams are really proud of."
And in fact, the client said:
"Michelle and I were honestly speechless, which does not happen often, after seeing the video and presentation. It fully captured the essence of what we have been saying and thinking throughout this entire process – You guys rock! Thank you very much for taking us down this path, our expectations have been exceeded every step of the way. We are looking forward to the rest of the journey with Make Digital!"
Marketing Director Lisa said that these challenges allowed us to find the right way to work together. From establishing how many meetings were actually needed (not as many as you think) to deciding what process is right for each type of deliverable, we became a smarter and more tight-knit team in 2020 (we know, who would've thought we could be any smarter?)
Setting the Foundation for 2021
And most of all, this year was all about building a solid foundation for which we can grow from in 2021. After the challenges and triumphs of the last year, our team is truly ready to tackle anything that the new year brings.
Don't believe us? Take it from our CEO Evan:
"With practically no visibility of what was to come, everyone on the MAKE Digital team did a great job holding their ground and keeping their head up when it would have been much easier to let it down. Not by sight but by FAITH we remained. All in all, I am incredibly grateful that we made it through the fire and have the battle scars to show it. We are better individuals and as a team because we banded together and carried each other through."
We can't wait for another amazing year!