Local Lead Generation Case Study for Home Service Company
Notable project results:
239% increase in on-site conversions
192% increase in quality leads via PPC campaigns
27% increase in organic traffic within first three months
Updated website with expanded service and product information
Towards the end of 2020, Brandon Welch was ready to invest in his new venture as the Owner/Operator of Epoxy Floors by Welch (Epoxy). A former firefighter, Brandon started Epoxy as a side business – but as interest grew and word spread, he shifted his career to pursue the business full time, eventually gaining a significant market share of epoxy related work in and around the Kansas City metropolitan area. As he honed his focus and commitment, he knew it was time to commit to a professional brand and stay relevant in the marketplace. 
Digital Marketing Strategy & Management
Website Maintenance
SEO & Content Creation
Brandon was looking for a marketing partner who could remain flexible while managing paid campaigns, optimizing his website, and taking care of ad hoc requests along the way. With Epoxy being in a hyper growth stage of the business, he knew it was imperative to work with a communicative team who could grow alongside Epoxy and consult accordingly to maximize his marketing efforts while driving local lead generation every step of the way.
Epoxy's growth has only continued since the end of 2020 – but with a strategic eye towards the future and a steady steam of leads coming in month after month.  
Search Engine Optimization (SEO)
After a new SEO strategy was launched:
Over 1,000% increase in organic traffic year over year

Increase of 310+ organic business relevant keywords
160%+ increase in organic leads and conversions
increase in organic traffic within first three months
Website Expansion, Development & Optimization
Blog created with strong keyword integration and value-driven content in mind
Highest performing blog landing page averaged a 20% conversion rate for organic traffic in 2022.
Four service pages created outlining each individual process, colors and finishes, variety of applications, and FAQs relating to each
Service pages as landing pages for organic visitors averaged a 12.52% bounce rate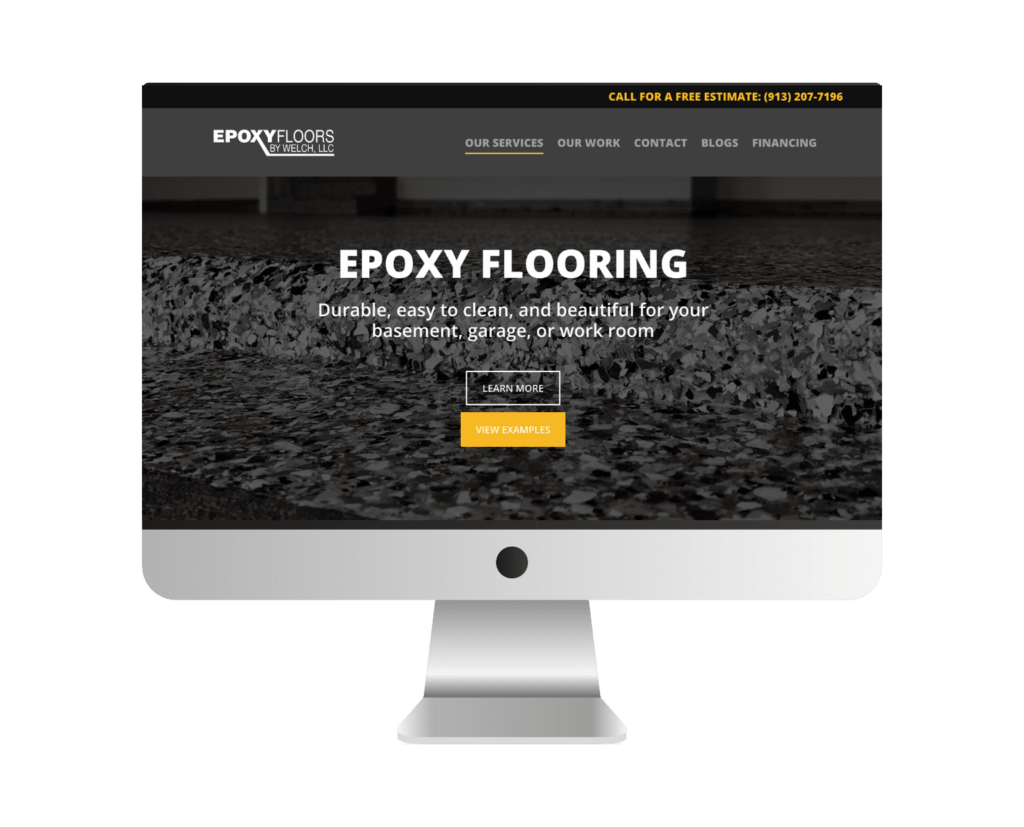 Conversion Rate Optimization (CRO)
After revamping core website CTAs, UI/UX and user flow:
142% increase in phone call conversions
235% increase in email conversions
340% Increase in text message conversions
increase in on-site conversions
Targeted campaigns by both service offering and location to drive high quality leads to the Epoxy team from Google Ads with smaller, variable budgets month to month
220+ quality leads acquired within first 12 months
200 average clicks per month / 9% average conversion rate
Ongoing tracking via calls, emails, texts, and form submissions on site via ads to showcase ROI and multichannel attribution
increase in quality leads via paid media channels