Website & Marketing Case Study for Ecommerce Business
Notable project results:
20,000% increase in desirable CTAs after A/B testing & UI recommendations
19:1 Google Ads return on ad spend investment
49% increase in organic traffic vs. previous year
Successful email campaign strategy and revamp
New corporate brand voice guidelines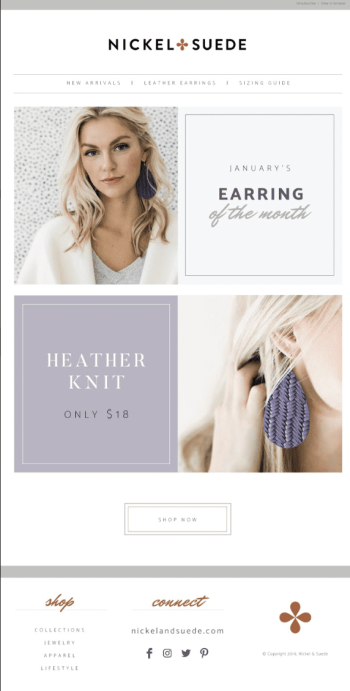 As Nickel & Suede quickly became a national brand in late 2018 with a three-year revenue growth of over 3,000%, co-founders and husband/wife team Soren and Kilee Nickels knew it was time to invest in a comprehensive marketing strategy to keep the momentum going. With one brick and mortar store in Liberty, MO and an incredibly successful online business, Soren and Kilee were ready to scale – and scale quickly. 
Digital Marketing Strategy & Management
Website Development & Maintenance
SEO & Content Creation
Brand Messaging
PPC
Email Marketing
Between continuing to capitalize on new and returning visitors to both the site and store as well as putting a strong foundation in place to drive ongoing growth into the future, Nickel & Suede was looking for a multi-dimensional partner to help create and execute on a variety of marketing services and deliverables.
Priorities included getting brand messaging finalized and ready for all future communications, optimizing the Nickel & Suede website to drive as many conversions as possible, sending consistent emails to their existing customer base, investing in PPC campaigns, and more.
Fast forward five years and Nickel & Suede is experiencing the exact success they envisioned and hoped for in 2018. With store expansions to both Kansas City and Dallas, a growing product catalog of accessories, and an annual revenue of $5.8 million, the brand has skyrocketed nationwide as one of the premier retailers for leather earrings, modern jewelry, and overall fashion.
Website & Conversion Rate Optimization (CRO)
Navigation optimizations via robust A/B variable audience testing provided insight into prioritizing Earring of the Month® page towards the top of the Explore tab – resulted in an over 20,000% increase in overall clicks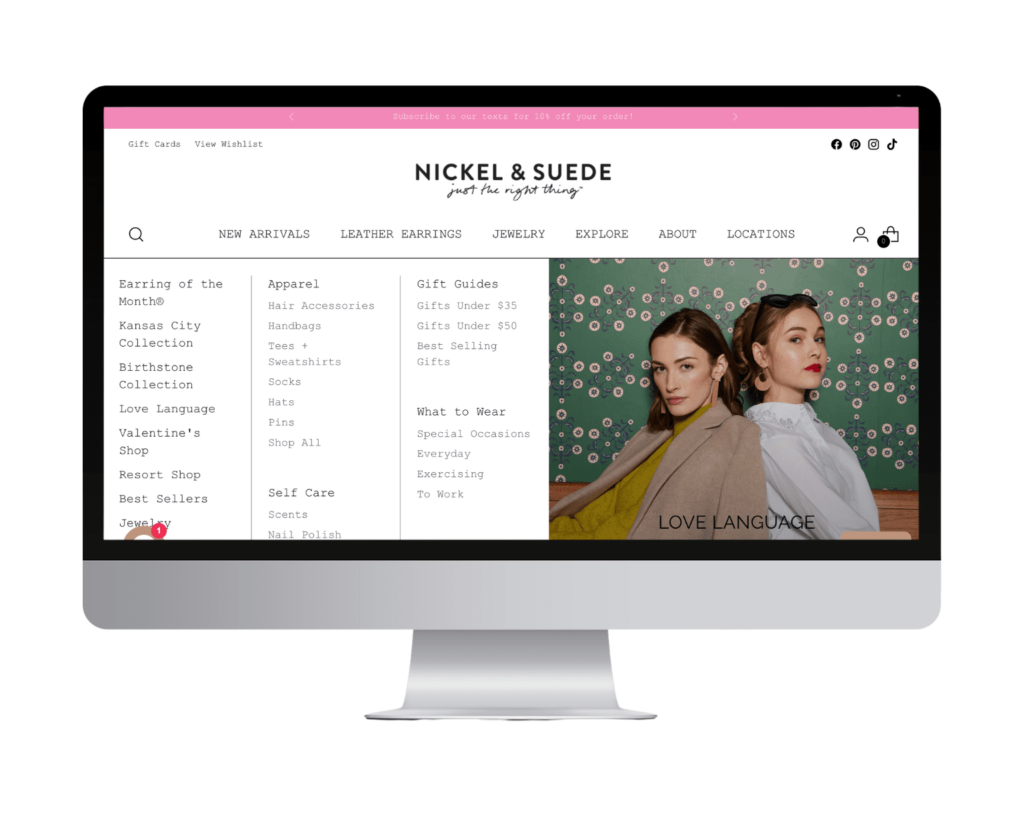 Search Engine Optimization (SEO)
After launching a new ecommerce SEO strategy, the Nickel & Suede site saw a massive improvement in organic rankings of over 500 business relevant keywords within the first 12 months.
increase in organic traffic in first 12 months vs. previous year
Comprehensive brand voice audit revealed specific traits – and data points on how to frame them – that were crucial to positive public perception with recommendations on how to incorporate them into messaging and communications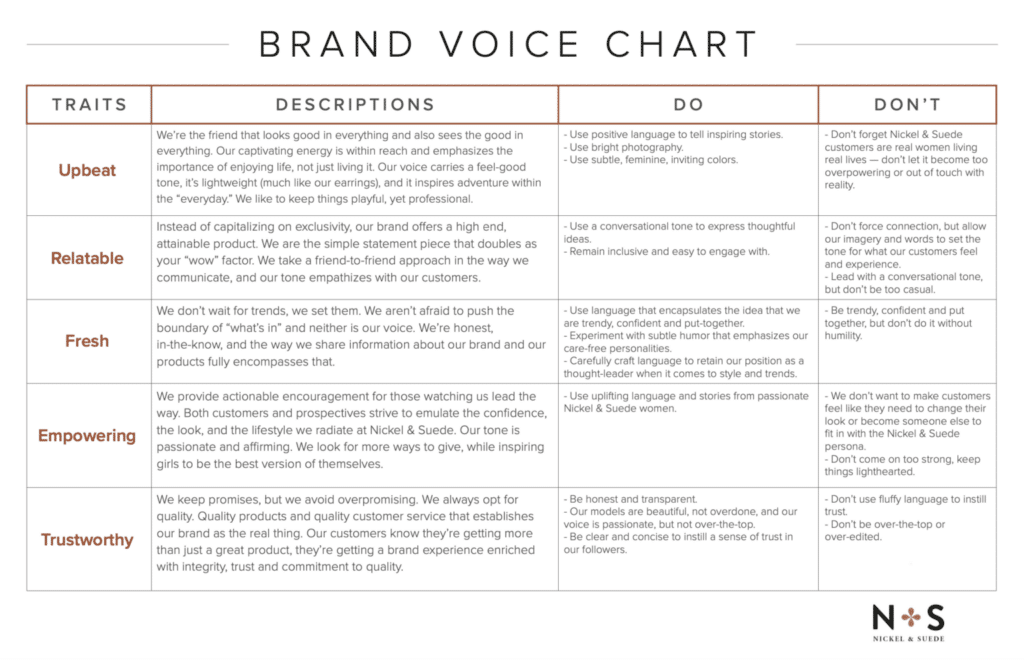 MAKE engaged with the Nickel & Suede team to create a paid media strategy for the 2019 holiday season.
Social media ads via Facebook and Instagram delivered a 12:1 return on ad spend investment, generating over $368,000 in new revenue. Similarly, Google ads delivered a 19:1 return on ad spend investment, generating over $173,000 in new revenue.
average return on Google Ads ad spend investment
Redesigned email campaigns were responsible for the majority of referred traffic to the website (24.6%) and $108,520 in monthly revenue by December 2019
Email automations suggested and implemented by MAKE (Welcome Email & Abandoned Cart Email) brought in over $21,600 over the course of 8 months while averaging 51.2% open rate and 12% click rate